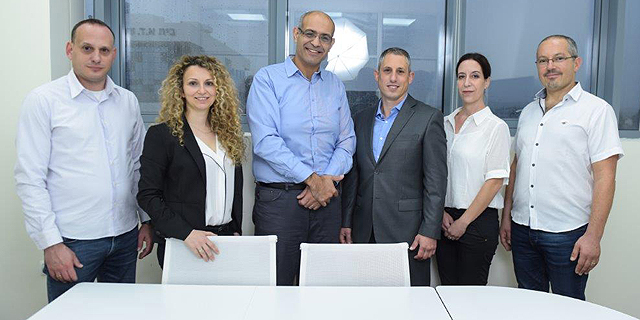 Mind the Data
These Are the 12 Finalists of Calcalist's AI and Big Data Startup Competition
Microsoft will host representatives of the winning startup at the company's Seattle headquarters. Winners will be announced Tuesday at Calcalist's "Mind the Data 2018" conference in Tel Aviv
Naomi Zoref
|
15:13 10.12.2018
Twelve Israeli startups advanced to the final round of Calcalist's and Microsoft's second annual artificial intelligence and big data startup competition. The winning startups will be announced Tuesday at Calcalist's "Mind the Data 2018" conference in Tel Aviv.
For daily updates, subscribe to our newsletter by clicking here.
Microsoft will host representatives of the winning startup at the company's Seattle headquarters, where they will receive an opportunity to network with Microsoft executives and other local tech companies through a program of roundtable meetings. First and second place winners will be invited by Calcalist to participate in the newspaper's Berlin conference next year, where they will meet with potential partners and investors. The invitation includes airfare and hotel costs. The second place winning will also receive 20 hours of financial advising by KPMG Israel, as well as 20 hours of business advising and mentorship from Israeli enterprise software company Kryon Systems Ltd.
The competition is being judged by Microsoft Israel General Manager Shelly Landsman; Eyal Niv, a managing general partner at venture capital firm Pitango; Vertex General Partner Emanuel Timor; Sivan Shamri Dahan, co-founder and partner of Israeli late-stage venture firm Qumra Capital; Daniel Shinar, CEO of Tel Aviv-based venture investments firm ClalTech; Yodfat Harel Buchris, managing director at Blumberg Capital Israel; Moran Ben Gigi, head of data and analytics at KPMG Israel; and Eyal Barzilai, head of big data at Israel's Leumi Bank.
These are the 12 finalists.
Abilisense Founded by Katerina Rotenberg and Erez Lugashi Founded in 2015 in Tel Aviv, Abilisense Ltd. develops an artificial intelligence-based sound identification technology that is installed into IoT listening devices, allowing them to translate certain sounds into alerts and alarms. The company's smart hearing technology can be installed into most devices containing a microphone and signal in the case of real-time emergencies, such as a baby left in a vehicle or a distress call from an elderly or sick person. The company's technology is also designed to assist people with hearing impairment, analyzing sounds in their environment and translating them into critical information.
BrainQ
Founded by Esther Shohami, Yaron Segal, and Yotam Drechsler
Jerusalem-based medical startup BrainQ Technologies Ltd. aims to help patients with paralysis move their limbs without requiring surgery. The company develops a headset that scans a patient's electric activity, and uses electromagnetic fields to simulate the way the central nervous system works and promote the natural recovery of the brain. Each treatment session takes 30-40 minutes, and the number of sessions needed depends on the severity of the injury. BrainQ has completed an $8.8 million investment round in May.
Glassbox
Founded by Yoav Schreiber, Yaron Gueta, and Hanan Blumstein
Customer analytics startup Glassbox Digital UK Ltd. offers a platform that collects data and provides analytics and insights pertaining to customer behavior across digital platforms and mobile applications. Glassbox's platform is designed to optimize web and mobile customer experiences, identify IT performance issues, and direct real-time customer support.
Infime
Founded by Inbar Carmel and Michael Litvin Infime Ltd. operates an online lingerie-selling platform that allows shoppers to virtually "try on" items through data-based body simulation.
Leaperr AI
Founded by Gil Admoni, Yiftach Richter, Gil Raz, and Yoni Klein Leaperr developed an interior design software that can quickly generate custom-made, realistic interiors using AI, deep learning, and image processing algorithms.
Founded in 2017, OncoHost Ltd. develops personalized treatment strategies for cancer patients, aiming to reduce cases of resistance to therapy. The company uses proprietary proteomic analysis to try and understand each patient's unique physical response to therapy.
Panoply
Founded by Yaniv Leven and Roi Avinoam
Panoply Ltd. develops an end to data management service that sits on top of Amazon's Redshift data warehouse service. Panoply's data warehousing platform automates manual data-storage processes such as scaling and storage optimization.
Stellares
Founded by Roi Chobadi and Andrew Katz The talent acquisition startup, listed as Stellar A.I. Inc., develops an artificial intelligence-based algorithm that operates as a recruitment platform matching the personal and professional goals of individuals with potential employers. The company's algorithm scans and analyzes the digital footprint of both employers and employment seekers, and matches them based on various commonalities including hobbies, relevant commute time, and policies such as bringing pets to the workplace.