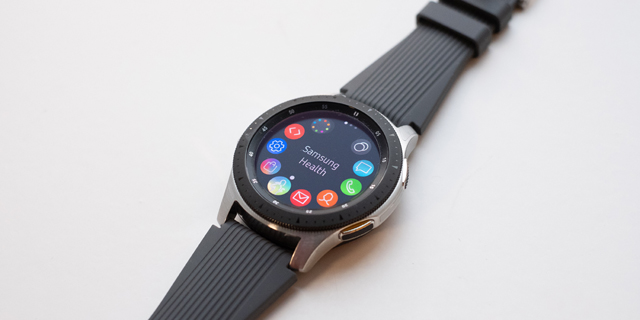 Your Very Own Co-Pilot: How Can the Galaxy Watch Help on Business Trips
Business trips are a challenge and a half, especially when you take them often; it doesn't matter if you're the CEO, a marketing manager, or a programmer arriving to a developer's conference— the schedule is always too tight, dependant on other people, and time just flies
Samsung, a CTech Partner
|
14:58 19.12.2018
Business trips are a challenge and a half, especially when you take them often; it doesn't matter if you're the CEO, a marketing manager, or a programmer arriving to a developer's conference— the schedule is always too tight, dependant on other people, and time just flies.
While smartphones help us deal with tasks on the move, and they're comfortable while on assignment, Samsung's Galaxy Watch is much more: an advanced smartwatch packed full of sport and leisure apps that turns into a powerful task managing tool. It will save you time and effort, even under maximum pressure.
Why Smartwatches?
The smartphone is a part of our daily lives, but tends to suck us into unrelated activities while we work: the phone vibrates while we read material for a forthcoming meeting. We pick it up and see a notification—some app asking to download some update. Underneath it, there's a notification for two new likes. And under it, something somebody wrote in the kindergarten's Whatsapp group. None of these are crucial while we work, and yet they still stop our workflow.
The Galaxy Watch allows you to view notifications without pausing your work. You don't need to take it out of your pocket or lift it from the table; half a twist of the wrist, half a glance while you keep typing, reading a contract or watching a slideshow— and you're up to date and can tell if the notification is worth your attention. The Galaxy Watch's smart dial interface, a unique advantage, allows operating without hassle. But notification management is just one edge. This smartwatch has much more to offer tech industry employees and other professionals under stressing assignments.
Your Very Own Secretary
The meeting's been pushed forward a few hours? Did you leave your hotel room thinking you might have forgotten something? The Galaxy Watch supports a virtual assistant—Samsung's Bixby. The smart assistant can set reminders for you, perform actions, and make life easier as you move. The more you'll use Bixby, the better it'll learn your preferences and become an inseparable part of your daily activity.
Digital and Physical Wellness, Even Under Pressure
The watch's sensors monitor many physiological elements and a health app is aware of your bodily condition—even when you're not. It's so easy to get sucked into work assignments that you might forget to get up and move a bit, to sleep as much as you need, and more. The Galaxy Watch will display your motion and sleep status, so you'll be aware of your condition and chose to keep going full steam or finish the day a bit early, and get some rest. The Galaxy Watch can also monitor your stress level, an important element we tend not to think about. We function much better when we're relaxed and focused, and the watch will show you when it's time for a break, and when it's better to do something to shed the stress, so you'll be focused later at work.
A Watch With an Intercontinental Range
The Galaxy Watch is equipped with a powerful battery and a smart energy management system that allows up to four days of continuous operation without charging. The watch's special operating system supports every important app, be it social media, news updates, media controllers, slideshows, navigation, photography, reminders and more. You'll also be able to use it to record meetings and perform phone calls without pulling the smartphone out of the pocket.
A True Fitness Champion
When your meetings are done, you'll be able to take the time and wander around the city streets, while the Galaxy Watch acts as your local guide. If you'll want to use the time for a short exercise, the watch will offer you dozens of training plans and exercises, from running to specific gym devices. In addition, you'll be able to store a lot of your favorite music on the watch itself, thanks to its 4GB storage space. It is easy to see that the Galaxy Watch is a strategic partner for even the most challenging of work trips.