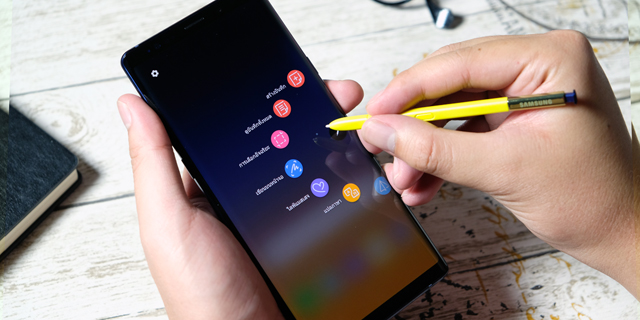 9th Gen Phablet: the 5 Key Advantages of the Galaxy Note 9
Samsung's latest elite phone can upgrade life on the business lane better than ever, thanks to a smart pen that redefines productivity, a brilliant interface, a bright screen, a powerful battery, and a freedom-enabling storage space
Samsung, a CTech Partner
|
15:10 19.12.2018
Samsung's latest elite phone can upgrade life on the business lane better than ever, thanks to a smart pen that redefines productivity, a brilliant interface, a bright screen, a powerful battery, and a freedom-enabling storage space.
1. A pen that redefines an effective workday
The S-Pen that stands at the heart of every Note device is an advantage no other device has in its product category. The Note 9 pen has evolved become more than a passive device; it now holds a bluetooth component, communicating with the Note at all times. The result is writing precision equal to an ink pen on paper, at a level that enables businessmen feel as natural as possible while writing and organizing assignments.
The new model lets you write on the screen even when it's turned off, share more personal messages using handwriting, and translate text as you hover over it with the pen's marker. In addition, the pen can function as a remote control for the Note 9's camera, and even move through slides in a slideshow.
Salesmen could mark notes on slides or docs and quickly show their clients. Interface designers and marketing personnel could share notes with their teams even when not in front of a computer, and every manager could walk into a meeting and leave the notepad in the table drawer. With a fast and precise S-Pen, the user can save every note immediately to share with staff and with other teams.
2. A Screen That Doesn't Fear the Sun
The Note 9's screen is one of the largest in its category, covering over 83% of the device's front. Samsung, unlike every other device maker, did not put a notch in the top of the screen, in order to give users a more natural, uninterrupted viewing experience. The screen technology allows an exceptional brightness; you'll be able to see posts, read docs, and watch videos clearly even under direct lighting, and show photos and clips you've shot to people around you, even in the sunlight.
3. A Camera that won't fear the Dark
The Note 9 has a main photography array that's based on a couple of imaging sensors with dynamic focusing, and smart algorithms that identify objects and bring out color areas without giving your photo an artificial, 'photoshoped' look. The results are amazing quality shots in every light setting, including in darkness. You'll be able to take pictures easily in surroundings with dynamic lighting. 4. A Battery that meet the charger less often The Note 9 has an extremely powerful battery, tested by professional reviewers, which allows operating times of more than two days. You'll be able to walk around conventions, meetups, and workshops without scouting for an available power outlet in the middle of the day, or just have a nice day traveling the country at ease. It's very comfortable when you wander around a foreign city, and can take pictures, share, or work without thinking about the next time you'll reach the room or planning ahead by taking a charger with you. 5. Storage Space You Won't Fill Easily The Note 9 is designed to let users do whatever they want, with no inhibitions or limitations—for example, saving and deleting photos, clips, and other files. This phone has a storage space of 128GB or 512GB, in addition to a memory card slot compatible with an additional 512GB. In its maximum configuration, the Note 9 has a 1TB storage space, more than most laptops on the market today. You'll be able to use it to save and move huge files in a secure manner, save movies and watch them on long flights, knowing that the space might run out—but not today.