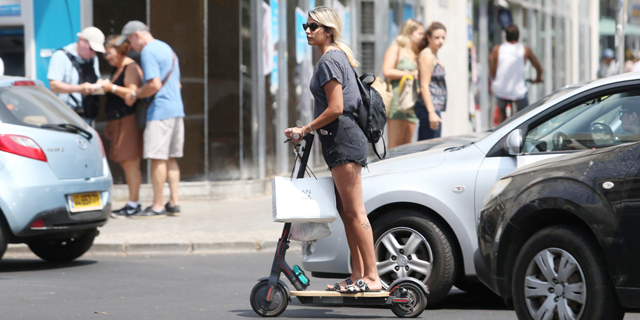 CTech's Most Popular Stories of 2018
Our top 10 list, and many more of our favorite stories
Orr Hirschauge
|
14:45 25.12.2018
Without ado, here are our top performing stories of 2018, some addendums included.
10.
10 Israeli Startups that Are Looking for U.S. Investments
A popular genre, startup lists in all shapes and sizes were a big hit with CTech readers this year. One of the two lists to make it to our top 10 stories, this one gave us the opportunity to highlight Calcalist's networking events for startups, held this year in London, New York City, and Paris. In May, music sharing startup Mugo, one of the companies featured on the list, announced a $7 million investment by Mexican broadcaster TV Azteca. Payroll management startup Papaya Global went on to win a Calcalist startup contest in October, after announcing a $3 million funding round. Jerusalem-based medical startup BrainQ Technologies announced an $8 million funding round in May, and was one of the 12 finalists in Calcalist's Big Data startup competition. Fintech startup Reach, previously branded as Seegnature, announced a $3.5 million funding round in April.
Salesforce Buys Marketing Analytics Company Datorama for Over $800 Million
While some of the M&A deals involving Israel-based tech companies inked in 2018 were bigger, Datorama's acquisition made a special splash. Considered one of the year's brightest success stories in the local tech scene, this was also the largest acquisition of a venture-backed Israeli startup this year. Calcalist's Meir Orbach was first to put a price tag on the deal, with his report becoming the only straight-out M&A story to make our top 10 list. In August, Salesforce announced the deal was finalized.
Apple Passes Over Intel in Search for Chips for a Future iPhone
Our most followed-up story this year, this one also featured a faux pas on our behalf. The original story stated that Apple was passing over Intel's 5G chips for a 2020 iPhone. After initially declining to comment, Intel rushed back with a more substantive post-publication comment, explicitly saying the company's plans are unchanged when it comes to 5G. We went back to review our information and eventually decided to update the story. In November,
Fast Company reported
Intel will supply Apple with 5G chips for 2020's iPhone, citing a source familiar with Apple's plans. According to recent reports by
The Information
, and
Bloomberg
, Apple is now stepping up its game when it comes to the development of cellular modem chips. Good insight into Apple's relationship with chip vendors can also be found in our 2017 interview with Apple's
chip chief Johny Srouji
.
7. A Country Made of Plastic: Israel's Addiction to Disposable Tableware
Some of our best stories this year had little to do with tech. This one, by Israeli filmmaker and journalist Ari Libsker, provided our readers with a deep-dive into the Israeli addiction to disposable tableware. A striking feature of local consumerism, as Libsker's interviewees put it the heightened use of disposables in the country has to do with a cultural tradition of hosting big family dinners. Other glimpses into Israeli culture by Libsker, including a story about Tel Aviv's first official municipal flock of sheep, were close to making it into the list. Also check out our story on Israel's Rick's Café for Russian Jewish oligarchs, our fancy Sufganiyot story, and our look into some of the numbers behind one of Israel's top pop hits this year.
6. Using Flywheel Batteries to Charge Electric Vehicles in Ten Minutes
An entrant from the "cool technology" category, this story about Israel-based kinetic battery startup Chakratec piqued the interest of many of our readers. One of two stories on electric mobility to make the list, this one took a closer look at one of the biggest challenges facing electric mobility: charging batteries. Our readers, as evidenced in comments, were fascinated by the startup's use of 19th-century technology. In December, Czech automaker Škoda Auto named Chakratec as one of a number of Israeli startups it collaborates with.
Saar Wilf's Bid to Rid the World of Clunky Online Payments
Boosted by the virality of Initiative Q, first in Israel and then in other countries, this was one of our most shared stories this year. A serial entrepreneur, investor, and semi-pro poker player, Wilf banks on a digital currency called Q as a way to overhaul the global payment system. To get Q all you need to do is register with your name and email. If the initiative manages to onboard a critical mass of pre-registered users, Wilf believes he will have the momentum required to get the technology off the ground and into extensive use. By November, according to a Vox report, Initiative Q already had over 2 million registrants. The media attention focused on the initiative brought with it some backlash over privacy issues, critics claiming that even by sharing their emails users have already put some of their eggs in Wilf's basket. "Collected data will not be shared or sold," a tweet published by Initiative Q in October stated. The tweet further noted that If "Q does not succeed" the database will be destroyed.
2018 Forecasts: Bitcoin Will Crash, Venture Capital Will Flow, Innovation Will Spread
Bitcoin crashed, venture capital flowed, and innovation spread—we couldn't have asked for a more accurate op-ed to start the year. Published early January, this forecast by Israeli venture capitalist Amit Karp hit all marks. Back then, Bitcoin traded at $13,337; it now trades at around $3,750. Its downfall brought with it a crypto-bloodbath, nearly flat-lining even the strongest of cryptocoins. Straight out of 2017's Bitcoin hype, one of our 2017 December stories described how a Tel Aviv Bitcoin ATM crashed due to overdemand, failing to make the top 10 list only due to its publication date. In another favorite crypto-related story, we presented some exclusive details on the plans auto part maker Bosch has for cryptocurrencies.
The Case for Electric Scooters
In line with the West Coast, and one step ahead of just about every other place, 2018 was the year of the e-scooter in Tel Aviv. In August, Bird announced it would be expanding its service to Paris and Tel Aviv. The company was quick to point the quick market uptake here, boasting its two-wheeled motorized scooters were already used by 25,000 people in Israel in October. While branded e-scooters in trash bins are still a rare sight in the country, safety issues have become a public concern. A regulatory reform announced by Israel's Ministry of Transportation in October will take effect January 1, requiring people who do not have a driver's license and have not yet passed a state-issued written road safety test to undergo a short course before hitting the road. 3rd on our top 10 list, this op-ed by serial tech entrepreneur Nadav Gur lays out the market dynamics driving this hot sector.
Tactics of Israeli Psy-Group, Black Cube Revealed in Canadian Court Battle
One of the major themes in our reporting this year, Israeli intelligence and surveillance companies came under increased global scrutiny in 2018. This rabbit-hole of a story, as described in one reader's comment, features two Israel-based intelligence companies that have made their way into the headlines repeatedly throughout the year: Psy-Group and Black Cube. It also features a court battle between two Toronto-based hedge funds, an alleged sting operation targeting a former judge, and a cameo appearance by a Black Cube operative who reportedly attempted to trick women allegedly harassed by Holywood producer Harvey Weinstein. An earlier top performing CTech story connected Psy-Group, whose employees were investigated by Special Counsel Robert Mueller's team, with now-defunct Israeli-registered firm Invop. The Special Counsel investigation was also featured in a recent story about the downfall of Israeli predictive analytics company Fifth Dimension, a past acquisition target for Israeli spyware firm NSO Group. The latter is now being sued for allegedly supplying Saudi with mobile hacking tools that facilitated the murder of journalist Jamal Khashoggi. Black Cube made another appearance in a CTech March report describing the privatization of Israeli national cyber operations, albeit in a somewhat reducted fashion.
Calcalist's 2018 List of 50 Most Promising Israeli Startups
With nearly three times more visits than the runnerup, Calcalist's annual list of most promising Israeli startups was our best-read story this year.
Here's what happened to some of the companies featured on the list since it was published in April.
In October, CTERA Networks (50) announced a $30 million
Series D funding
round. Web personalization company Dynamic Yield (49) announced it had
raised $32 million
in a Series D funding round in August. In December, conversation analytics startup Gong.io (47) won Calcalist's and Microsoft's second annual artificial intelligence and big data
startup competition
. Quick-charging battery startup StoreDot (44) announced a
$20 million investment
by oil and gas company BP in May, and a
manufacturing partnership
with Shenzhen-listed lithium batteries manufacturer EVE Energy in November. Payment and credit solutions startup Fundbox (43) announced it appointed former Uber finance executive
Rose Zhong
as vice president of finance in November. In October, Walmart announced the launch of a
joint video venture
with interactive multimedia video creation and distribution company Eko (42). Flash storage company Kaminario (40) announced a
$25 million funding
round led by Western Digital Capital in October. The same month,
Visa announced
an investment and partnership with alternative financing startup Behalf (38). Automotive chip company Valens Semiconductor (35) announced it had raised a
$63 million funding
round in November. LiDAR company Innoviz Technologies (34) announced
BMW plans
to use its systems in its autonomous vehicles scheduled for release in 2021 in April, and
a partnership
with Beijing-headquartered electronics supplier HiRain Technologies in June.
Hyundai said
it has invested in auto communication chips company Autotalks (33) in July. In November, the latter announced it is
expanding
its operations in China. In June, content creation startup Apester (32) launched
a story tool
for online publishers and businesses. Online gig marketplace Fiverr (25) announced it had opened its
first European office
in Berlin in December. Taxi-hailing company Gett (23) had an eventful year. In June, the company
announced
an $80-million funding round from Volkswagen and other previous investors in a deal reflecting a $1.4 billion valuation for the company. In December, Russian multinational
Yandex rolled out
its taxi booking service Yango in Israel, Gett's home turf. According to a December Der Spiegel report, Volkswagen had
written off
a large part of its investment in the mobility company. Business intelligence startup Sisense (21) announced an
$80 million funding
round in September. In another September announcement,
Sisense said
it is opening a new London office to serve as its Europe headquarters. Insurance startup Lemonade (20) has
filed
a federal complaint against Berlin-based digital insurance company ONE Versicherung, later
to drop
the lawsuit. In October,
WeWork announced
Lemonade would provide rent insurance to members of WeLive, its co-living brand. Lemonade announced intentions to
expand its services
, currently available only in the U.S., to the European Market in November. In July,
Salesforce announced
an agreement to acquire analytics company Datorama (19). Citing people familiar with the matter, Calcalist reported the deal was valued at over $800 million, making it the biggest acquisition of a venture-backed Israeli startup this year. The transaction
was finalized
in August. in November, public transit app developer Moovit (17) announced it would
integrate
its information into Microsoft's Azure Maps. In September, Mercedes-Benz Vans and carpooling firm Via (16) officially launched a shuttle service in Berlin. After
launching services
in 21 countries, Via announced in November it would
start a pilot
for its service in the Tel Aviv metropolitan in the first half of 2019. Video creation and distribution company Kaltura (15) announced it
had acquired
Boulder, Colorado-based interactive video startup Rapt Media in May. In November, the former announced it is investing $5 million in setting up offices in Paris, Munich, and Jerusalem. Online team management and productivity software Monday.com (14) announced it had closed a
$50 million Series C
investment round in May. in November, cybersecurity company Checkmarx (13) announced
it had acquired
Ontario-based software security company Custodela. In June, website usability company WalkMe (12) announced
it had acquired
Israel-based machine learning startup DeepUI. WalkMe announced it had raised $75 million in a
Series E funding
round In July, and a $40 million
Series F funding
in September.
In December, wearable devices company OrCam (11) announced it expects to ship its life analytics wearable device MyMe in March 2019.
Code management startup JFrog (9) announced it appointed industry veteran
Jacob Shulman
as a chief financial officer in May, the acquisition of software development and consulting startup
Trainologic
in September, and
a $165 million funding
round led by Insight Venture Partners in October. In August, content creation startup Lightricks (8) announced it is
setting up shop
in Europe with a new London office. In November, the company announced
it completed
a $60 million funding round, $45 million of which are to be used to buy stock off existing shareholders. Online genealogy company MyHeritage (6) released a statement in June revealing that email addresses of around 92 million of its users
were stolen
. The next month, MyHeritage announced it had opened a
new distribution center
for its DNA testing kits in Tilburg, a city in the south of the Netherlands. Marketing startup Yotpo (5) has
launched a feature
that allows retailers to monitor and analyze customer feedback at scale in May. Yotpo announced it had acquired Boston-based e-commerce incentive marketing company
Swell Rewards
in August, and
a partnership
with digital commerce company Magento in October. In May, online lender BlueVine (4) announced it had secured a $200 million credit line
with Credit Suisse
. In June, the company announced a $60 million
round E funding
, and in July it
announced
an addition of $12 million to its financing. Online insurer Next Insurance (3) announced an
$83-million Series B
in July. In October, French auto part manufacturer
Faurecia said
sensors by 3D imaging company Vayyar (2) will be used in its future automotive "Cockpit," designed to continuously monitor the car's interior. Softbank-owned chip designer
ARM announced
it has partnered with cybersecurity company Cybereason (1) to develop secure chip designs in October. By the year 2035, the companies anticipate the secured chip design to be used in one trillion devices, Cybereason said in an announcement. See you all in 2019.