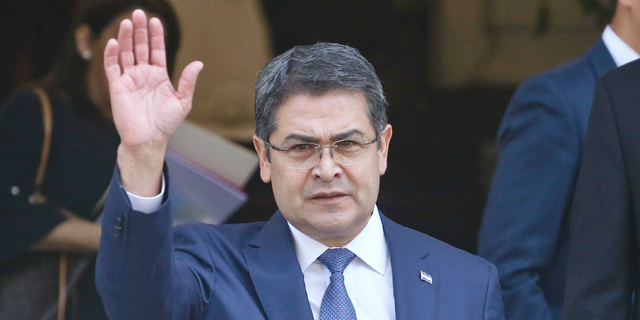 Honduras and Jerusalem Advance Mutual Embassies
In December 2017, Honduras was one of only nine countries, including Israel and the U.S., to vote against a motion adopted by the U.N. General Assembly condemning U.S. recognition of Jerusalem as Israel's capital
Adi Pick
|
17:40 02.01.2019
On the sidelines of the inauguration of Brazilian President Jair Bolsonaro in Brasilia Tuesday, Israeli Prime Minister Benjamin Netanyahu met with U.S. Secretary of State Mike Pompeo and Honduran President Juan Orlando Hernandez. The three discussed advancing the opening of a Honduran embassy in Jerusalem, and the possibility of opening an Israeli embassy in Tegucigalpa, Honduras, according to a statement released by Netanyahu's office.
For daily updates, subscribe to our newsletter by clicking here.
Pompeo, Netanyahu, and Hernandez agreed to hold tripartite meetings in each of their respective capitals and "strengthen political relations", according to a statement by the U.S. Department of State.
In May, the American embassy relocated from Tel Aviv to East Jerusalem, causing much international criticism.
In December 2017, Honduras was one of only nine countries, including Israel and the U.S., to vote against a motion adopted by the U.N. General Assembly condemning U.S. recognition of Jerusalem as Israel's capital.
To date, only the U.S. and Guatemala have official embassies in Jerusalem. Paraguay moved its embassy to Jerusalem in June 2017 but reversed its decision three months later.
The Israeli government announced plans last month to build an embassy district in East Jerusalem, which will house nine embassies and include embassy facilities as well as housing for embassy staff.