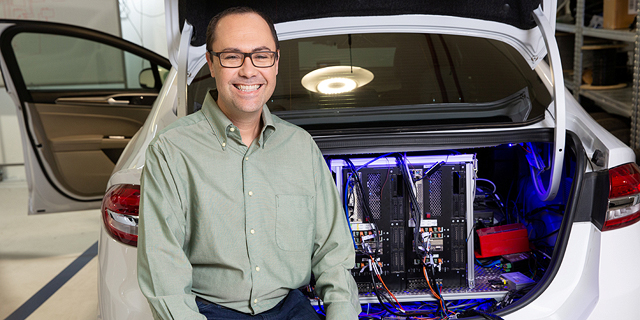 CTech's Wednesday Roundup of Israeli Tech News
Mobileye's mathematical approach is the key to the autonomous vehicle revolution, says chief technology officer; Mobileye sketches autonomous vehicle future at CES 2019
CTech
: 2019-01-09T14:34:07..
Interview | Mobileye's mathematical approach is the key to the autonomous vehicle revolution, says chief technology officer. A leader in autonomous driving systems, Mobileye sees the future of car ethics in Mathematics.
Read more
Read more
Israeli intelligence director warns of expected attempt to influence country's general elections. The head of the Israel Security Agency Nadav Argaman, said another country is expected to attempt to influence Israel's general elections to be held April 9. Read more
WeWork landed an additional $2 billion from SoftBank, rebrands as The We Company. In October, the Wall Street Journal reported that SoftBank was in talks to invest between $15 billion and $20 billion in the shared real estate company. Read more
Kenon Holdings to sell 12% of Qoros Automotive to Chinese majority shareholder for $227 million. Qoros is a joint venture between Israel-based Kenon and Chery Automobile Co. In January 2018, an investor related to the Baoneng Group paid $1 billion for a 51% stake in Qoros.
Read more
Celgene backs immunotherapy company Biond Biologics. Biond develops immunotherapies for cancer and autoimmune diseases. Read more
Turner Broadcasting to take sports fandom gamification app to South America. Turner Broadcasting Corporation has signed an agreement to distribute sports fan engagement app by Israel-based Fans League Ltd. in Brazil and Latin America.
Read more
Harman partners with Israel-based LiDAR startup Innoviz. As part of the partnership, Harman will integrate a LiDAR sensor by Innoviz into autonomous driving systems.
Read more
Aeronautics executives investigated for alleged insider trading. The company specializes in the development of unmanned aerial Vehicles (UAV) for military use and has over 45 defense, military, and homeland security customers worldwide. Read more
Israel refloats Red Sea-Dead Sea canal initiative. The planned pipeline, first announced in 2013, was intended to span over 200 kilometers on Jordanian territory. Read more
The BIRD Foundation to invest $7.3 million in eight joint U.S.-Israeli projects. The foundation will invest across a variety of technological domains including agtech, medical devices, digital health, and defense. Read more
Drone delivery startup Flytrex raises $7.5 million. Read more
High-resolution screen inspection startup InZiv raises $2.5 Million.
Read more
Online ticket seller Sports Events 365 signs deal with Manchester City F.C.
Read more