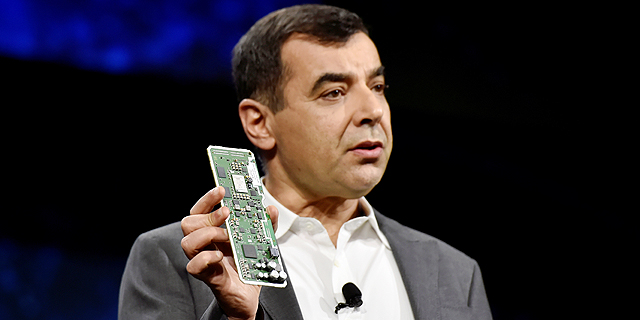 Interview
Mobileye CEO Outlines Israel's Robotaxi Future
Intel's Mobileye and Volkswagen AG plan to have hundreds of autonomous taxis on Tel Aviv's streets by 2022, according to Mobileye co-founder and CEO Amnon Shashua
Galit Altstein
|
16:26 10.01.2019
Intel's Mobileye and Volkswagen AG plan to have hundreds of autonomous taxis on Tel Aviv's streets by 2022, according to Mobileye co-founder and CEO Amnon Shashua. These robotaxis will be level-4 autonomous cars, meaning driverless cars that operate only under good weather conditions, Shashua said in an interview with Calcalist held earlier this week at the Consumer Electronics Show in Las Vegas, where the company
took center stage
.
For daily updates, subscribe to our newsletter by clicking here.
Mobileye, Volkswagen, and Israeli car importer and distributor Champion Motors Ltd.
announced
in October a partnership with the intention to launch a self-driving taxi service in Israel in early 2019. During 2019-2020, the project will collect data from 33 kilometers of Tel Aviv's roads, Shashua said. In the following two years, the companies intend to map another 111 kilometers of roads.
In December, German weekly Der Spiegel reported that Volkswagen substantially cut down on its investment in the company as a result of Gett's inability to gain market traction compared to rivals like Uber and Lyft.
In 2017, the company was acquired by Intel for $15.3 billion, in the largest deal Israel's tech industry has seen to date. Shashua stayed with the company, becoming a senior vice president at Intel while continuing to lead Mobileye, which became the corporation's global autonomous vehicle development center. The day the deal was signed, Mobileye had 780 employees in Israel, Shashua said. It now employs 1,400 people in the country, 300 of them "poached" from Intel. Intended to solve some of the difficulties in obtaining skilled employees in Israel's tech industry, Shashua proudly says he was able to persuade Intel's engineers to make the move. The company is now building a new campus in Jerusalem, intended to house 2,500 employees. They also plan to construct offices for several hundred employees in central Israeli city Petah Tikva. According to estimates by the Israeli government, the country's technology sector needs around 10,000 more engineers. High demand is driving salaries up. "Unskilled labor is easy to hire, but high quality, highly skilled employees are hard to come by," Shashua said. A regular showstopper at the CES, Mobileye did not fail to attract attention this year. It announced its first foray into commercial data collection, via an agreement with Ordnance Survey, the national mapping agency of the U.K. The company's sensors will be installed in Ordnance's's vehicles and collect road and road infrastructure data, which will then be cross-referenced with existing geospatial datasets, and sold to businesses and service providers.