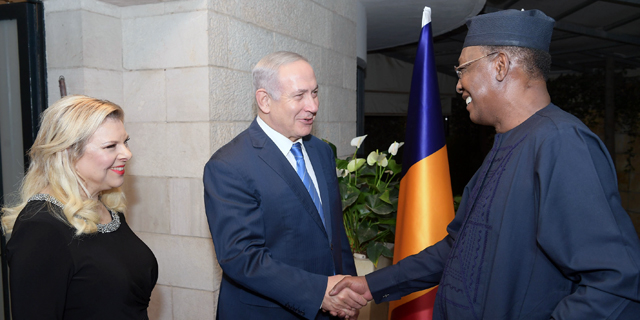 Israel and Chad Resume Diplomatic Ties After 42 Years
Israeli Prime Minister Benjamin Netanyahu made the announcement on Sunday during his visit to the central-African country, making him the first serving Israeli prime minister to officially visit in Chad
Adi Pick
|
17:24 20.01.2019
On Sunday, Israeli Prime Minister Benjamin Netanyahu announced that Israel and Chad are officially renewing diplomatic relations following a 42-year hiatus. Netanyahu made the announcement during his visit to the central-African country, making him the first serving Israeli prime minister to officially visit Chad since Golda Meir's visit in 1969.
For daily updates, subscribe to our newsletter by clicking here.
Located west of Sudan and south of Libya, Chad's population numbers about 15.8 million, 54% of which are Muslims. The country's official languages are French and Arabic, but only 22% of Chad's citizens are literate, according to the U.S. Central Intelligence Agency.
Authorities in Chad have arrested and prosecuted human rights defenders, activists, and journalists, according to Amnesty International. According to Freedom House, a U.S.-based nonprofit conducting research on democracy, political freedom, and human rights, Chad was ranked the 18th-least-free country in 2018.
Right before taking off for Chad, Netanyahu stated there will be more "major news" regarding Israeli relations with "more countries". In October, Netanyahu hinted at warming ties with Gulf states speaking at an Israeli innovation summit, and the following day he was already in the Gulf state of Oman.
On Thursday, the Emirati news outlet Al Khaleej reported that UAE officials flew to Israel directly from Abu Dhabi in preparations for a surprise visit to Israel by the country's Foreign Minister, Abdullah bin Zayed.
Correction: A previous version of this article stated Netanyahu was the first sitting Israeli Prime Minister to visit Chad