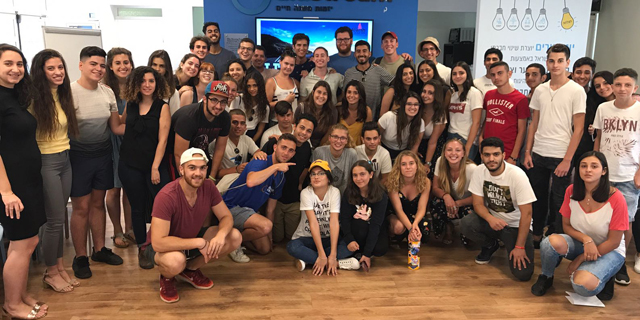 This Non-Profit Equips Israeli Young Adults with Entrepreneurship Skills
Over 4,000 teens and young adults across Jewish and Arab communities currently attend leadership workshops and a mentorship program by Unistream, an Israeli non-profit
Adi Pick
|
10:12 25.01.2019
Startup entrepreneurs Roni Aviv and Avichai Malca grew up in small towns in northern Israel, far off from the bustling streets of Tel Aviv skyline. Aviv founded his travel startup GiSTip in 2018, and Avichai founded his digitized registration startup SignBox in 2017. Both are graduates of Unistream, an Israel-based multi-year after school program aiming to impart underprivileged teens with entrepreneurship and leadership skills.
For daily updates, subscribe to our newsletter by clicking here.
Over 4,000 teens and young adults across both Jewish and Arab communities currently participate in the program active in 75 locations in Israel.
The organization, founded in 2001 by Israeli businessman Rony Zarom, operates 21 entrepreneurship hubs that assist highschoolers set up their own businesses, from brainstorming, to prototyping and sometimes even registering patents. As mentors, the young entrepreneurs get access to some 4,500 of Israel's startup founders and business executives, including Facebook Israel CEO Adi Soffer-Teeni, Tel Aviv-listed cafe and supermarket chain Cofix Group Ltd. founder Avi Katz, and Shelly Landsmann, general manager of Microsoft Israel.
Citi and JP Morgan are backers as are Israel's Bank Hapoalim, and the Jewish Federation of Los Angeles.
Neil Corney, CEO of Citi Israel, is also a mentor at the program.
"We aim to give students the tools required to get into the local tech scene, not just as entrepreneurs," Unistream CEO Batsheva Moshe said in an interview with Calcalist Wednesday.
The non-profit measures its success according to milestones attained by graduates—how many graduated high school, found a job, and enlisted in universities, Moshe said.
Compared with a 60% high-school graduation rate in the communities where the program operates, 90% of Unistream graduates graduate. 66% of Unistream graduates continue to post-secondary education compared with a national Israeli average of 49%, according to Unistream's statements.
Aviv, who participated in the program in 2008, graduated with honors from his bachelor's degree in commerce and marketing. GiSTip, the company he founded, is a website that connects travelers and travel bloggers. It launched a podcast called "Terminal" last week.
In 2018, a team consisting of both Jewish and Arabs with Israeli citizenship from Acres won Unistream's annual startup contest. The winning team developed strips for individualized allergen detection in food and won a NIS 10,000 ($2,700) prize and a trip to an overseas conference.
In 2017, Malca, another graduate of Unistream's 2008 class, founded SignBox, a company developing digital contracts aimed to increase participation in courses and workshops. The company just completed a first pilot in several Tel Aviv beauty schools.
The Unistream program supplied him with a helpful entrepreneurship toolbox, Malca said in an interview with Calcalist.