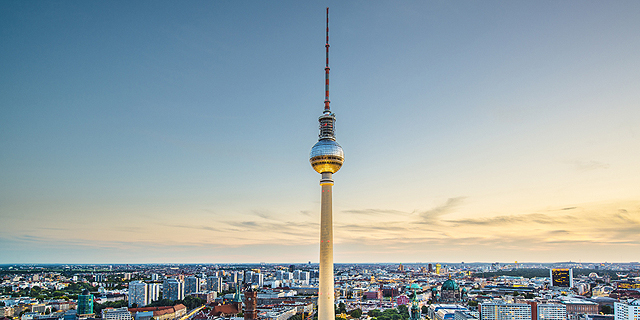 Israeli Tech Luminaries to Take the Stage at WeTechBerlin
Calcalist to lead a delegation of leading figures from Israel's tech industry to Berlin in February
Omer Kabir
|
18:47 31.01.2019
Following conferences in San Francisco, New York, London, and Paris, Calcalist's tech conference is now headed to Berlin. Set to take place at the Hilton Berlin on February 18-19, the event called WeTechBerlin will bring together Israeli industry executives and entrepreneurs and potential partners and investors from some of Germany's biggest corporations.
For registration, and more information click here.
The event aims to foster collaborations between the two tech hubs, as previous Calcalist events at other global cities have done, Calcalist publisher Yoel Esteron said. Berlin is now a center of innovation in a number of key sectors, he added.
Other participants include Dr. Nazim Cetin, CEO of Allianz X, the digital investment arm of multinational insurance company Allianz, and Philipp von Hagen, investment manager and member of the executive board at Porsche SE, the controlling stakeholder in the Volkswagen Group, which manufactures vehicles under brands such as Audi, Bentley, SEAT, Skoda, and Porsche. Other Porsche SE subsidiaries include Porsche Design Group and Porsche Engineering.
Auto1 Group GmbH, one of Germany's most prominent startups, will be represented at the conference by founder Hakan Koc. Auto1 operates an online used car trading platform. The company, which verifies each of the tens of thousands of vehicles sold through its platform, employs more than 3,000 people in 30 countries worldwide. In 2017, Auto1 was valued at $2.8 billion.
Gisbert Rühl is the CEO of German steel company Klöckner & Co SE. The company employs 8,600 people and reported 6.3 billion euros in revenue in 2017. Klöckner & Co manufactures steel and other metal products for machines and construction, with more than 200,000 products on its portfolio. In recent years, the company has undergone an accelerated technological shift that saw it completely digitize its supply chain and adopt digital tools to streamline its operations. Five years ago, Klöckner & Co moved its headquarters to the heart of Berlin's startup hub.
Alexander Kudlich is the chief operating officer and executive board member at Rocket Internet SE. An incubator and venture capital firm hybrid, Rocket Internet builds and invests in internet and technology companies and lists HelloFresh, Easy Taxi, and Delivery Hero among its portfolio companies. Porsche Digital is a subsidiary of the Porsche car brand. Its CEO Thilo Koslowski will attend the conference to talk about his team. Composed of developers, designers, and UX experts, the Porsche Digital team develops digital services and experiences designed to enrich the experiences of car users. Additionally, Porsche Digital invests in startups with complementary technology. In April 2018, the company invested in Anagog Ltd., a Tel Aviv-based startup whose technology tracks and predicts user behavior with data from sensors embedded in mobile phones. Alexander Satanowsky, a 20-year veteran of Daimler AG who now heads the automaker's innovation and tech scouting initiative NeXt Scouting, will also attend the conference.
Deutsche Telekom Capital Partners, the investment arm of Telecommunications provider Deutsche Telekom AG, will be represented by vice president and strategic advisor Dr. Till Stenzel. Deutsche Telekom Capital Partners manages 1 billion euros in assets and has more than 70 companies in its portfolio, including Israeli cybersecurity startup Morphisec Ltd. and marketing analytics company AppsFlyer Ltd.
Rouven Spinner is an investment partner at Continental Venture, the investment arm of German automotive manufacturer Continental AG, which acquired Israeli automotive cybersecurity company Argus Cyber Security Ltd. in 2017. Continental is exploring partnership and investment opportunities in the fields of cybersecurity and autonomous vehicles. Maria Pennanen is the CEO of German crypto data insights startup Santiment, Inc. One of the key figures of German fintech, she is also a co-founder of Accelerator Frankfurt. European investment fund Target Global, a Calcalist partner, will be represented by General Partners Yaron Valler and Shmuel Chafets. The Berlin-based venture capital firm has invested in companies including Auto1, Delivery Hero, Juno, Blue Apron, and Smartfrog.
The Israeli delegation will be led by top executives at Israel's Bank Leumi, a WeTechBerlin partner. These are Shmulik Arbel, head of corporate and commercial division at Bank Leumi, and Yifat Oron, CEO of Israeli bank Leumi Group's tech arm LeumiTech. Also leading the delegation is Nechemia ("Chemi") Peres, a co-founding partner at Israel-based venture capital firm Pitango Venture Capital, Chairman of the Peres Center for Peace & Innovation, and the son of late Israeli President Shimon Peres; Dina Pasca-Raz, head of international taxation at KPMG in Israel, and Tim Dümichen, head of the KPMG Enterprise Global Innovative Startups Network in Germany. Nimrod Kozlovski, a partner at Israel- based law firm Herzog, Fox & Neeman, will host the event. Israel's ambassador to Germany Jeremy Issacharoff will give a speech at the opening of the conference.
Tamir Pardo, former director of the Mossad and now co-founder and president of cybersecurity startup XM Cyber, will participate in a conversation with Marcel Yon, who heads the cyber innovation hub of the German armed forces.
Igal Rotem is the CEO of fintech startup Credorax, Inc., which offers a safe and cost-effective online payment processing technology.
Israeli businessman Mati Kochavi, who founded AGT International, will talk about AI in everyday life and about the company's research and development centers in Germany and Israel.
Other speakers at the event:
Daniel Shinar, CEO of Tel Aviv-based venture investments firm ClalTech, the Israeli tech investment vehicle of New York-based holding company Access Industries, founded by industrialist and philanthropist Len Blavatnik.
Sigalit Klimovsky, a partner at Israel-based venture capital firm Grove Ventures Capital (GP) Ltd. Grove Ventures' portfolio companies include IoT sensor startup Wiliot Ltd., chip startup Trieye Ltd., and medical wristband startup Spry Health Inc. Michal Vakrat Wolkin, manager of Israel operations and investments at automotive seating and electrical systems manufacturer Lear Corp. In a previous position, Vakart Wolkin managed the research and development activities of U.S.-based 3M Co. in Israel.
Daniel Barel, CEO at wheel technology company Softwheel Ltd. In August, Softwheel announced it has raised $25 million in a third funding round.
As part of the event, prospective partners, investors, and corporate clients will get to meet Israeli startups in a special session for industry executives. Companies that have already signed up for the session include Target Global, Aroundtown, Bundesliga, Daimler, Porsche, Continental, Auto1, Deutsche Telekom, Allianz, Commerzbank AG, Rocket Internet SE, Zalando SE, Klöckner AG, The Edeka Group, Barclays, Techstars, ClalTech, and Grove Ventures.
Other investors who will participate in the session are Yuval Cohen from StageOne Ventures, Philippe Cerf and Amir Steinmetz of Credit Suisse, Tal Morgenstern, who is a partner at Lightspeed Venture Partners, Sarit Firon, a managing partner at Cerca Partners, Pierre-Emmanuel Houillier, head of technology, EMEA, at HSBC Bank, Nimrod Cohen, managing partner at TAU Ventures, the venture capital arm of Tel Aviv University, Demtech Ventures founder and managing partner Mario Cohen, Kevin Baxpehler, managing partner at Remagine Ventures, Ran Simha, general partner at New Era Capital Partners, and Dror Glass, founding managing partner at Israel Secondary Fund.