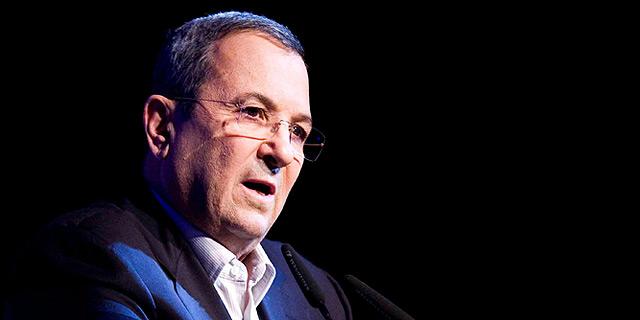 Interview
Ehud Barak Has High Ambitions for the Cannabis Market
"I have never inhaled, never exhaled, never tasted, and never smelled cannabis," says the current chairman of a high-flying Israeli cannabis company and former Israeli prime minister
Tzally Greenberg and Amir Kurz
|
08:15 08.02.2019
Israel's former prime minister and the current chairman of aspiring medical cannabis company InterCure Ltd. Ehud Barak (76) sits behind an elegant desk in his office on the 11th floor of the new Assuta Village Tower in Tel Aviv. A black piano in the background reminds visitors of the former general's passion for music. On the piano, a framed picture of Barak in his uniform as Chief of Staff of the Israeli military, standing next to then-Prime Minister Yitzhak Rabin.
Pictures hanging on the office walls show Barak with former U.S. Presidents George W. Bush, Bill Clinton, and Barack Obama. On the shelves, bronze horses and decorative vases are displayed alongside a dagger Barak received as a gift from a former head of the CIA, and busts of legendary Israeli prime ministers David Ben-Gurion and Yitzhak Rabin. There's also a statue of Barak himself.
For daily updates, subscribe to our newsletter by clicking here.
Since he joined the Tel Aviv listed InterCure in September 2018 as a part-time chairman the company's stock went up over 500%. With reported revenue of under $1 million in the first half of 2018 (NIS 3.1 million), the company's current market valuation stands at nearly NIS 1 billion, or $272 million. Barak's stock options convertible into 3.73% of InterCure stock are now valued at NIS 32 million (approximately $9 million).
"I take the elevator down to the office from our apartment on the 23rd floor," he says. "You can certainly say I enjoy my commute."
Barak and his wife recently moved to the luxury tower, trading in an apartment in another Tel Aviv luxury tower. In the early 2000s, an apartment Barak bought in one of Tel Aviv's first luxury residential towers caused a public backlash. After decades in which Israel was helmed by leaders who preserved the image of the modest public servant, Barak ushered in the era of the millionaire prime minister, an icon further honed by current Prime Minister Benjamin Netanyahu. "From tower to tower we grow in power," he says jokingly in the interview with Calcalist held Sunday.
Barak has been a private businessman since 2013. Before going into cannabis, he was drawn to companies in the realm of defense, particularly cybersecurity companies.
"As opposed to cannabis companies, in cyber five years go by before you can create value," Barak says.
In early 2018, he co-founded Tel Aviv-based cybersecurity company Toka, listed as Cybertoka Ltd. He is an investor and board member in cybersecurity startup GuardiCore Ltd. and a chairman, and a controlling shareholder in another cybersecurity startup, Carbyne Inc.
Defense companies, including weapon makers, are off the table, he says.
"I've gotten amazing offers, but I decided I'm not going in that direction," he said.
"There is something unsavory in a former Israeli minister of defense entering the arms business."
While he retired from political life, Barak is by no means apolitical. His elegant office is where he films poignant political videos, the majority of which are directed at— and against—Israeli Prime Minister Netanyahu, which he regularly posts to his Twitter account. "I don't take full credit for making cracks in Netanyahu's political hold, but I'm proud of my contribution," he says. In the past months, Barak and fellow tower resident serial entrepreneur Kobi Richter attempted to broker a new alliance among Israel's center and left parties, in preparation for the upcoming April election. The leaders of the parties met at this office. With only two months to go before the elections, Barak did not yet announce he is running. A growing business In September 2018, InterCure, which functions as a holding company, acquired Israeli cannabis cultivator Canndoc Ltd. —licensed in Israel to produce and market medical cannabis and its products— for an undisclosed amount.
Canndoc is considered one of Israel's leading producers of pharma-grade medical cannabis. In addition to operating a growing facility in the north of Israel, and preparing to build a second facility in the south set to increase its production to 100 tons per year, Canndoc has recently partnered with other firms to launch activity in the European Union and Canada in coming months.
Asked about the seemingly surprising juxtaposition between his previous roles and his current interest, Barak explained he sees a great business potential.
"I have never inhaled, never exhaled, never tasted, and never smelled cannabis. Put me in a corridor where people are smoking cannabis, and I wouldn't be able to recognize the smell. I never had a family member who needed medical cannabis, but I was very impressed with the potential of cannabinoids. These are substances that have yet to be fully researched, and we are now seeing the tip of the iceberg in terms of what they can do. Unlike other medications, which have a uniform effect, cannabis impacts people differently. I liked this, as well as the fact that Canndoc does not deal with cannabis for leisure purposes." After his attention was pointed to the field by a friend, Barak said, he quickly delved into research. Barak holds a bachelor's degree in physics and mathematics from the Hebrew University of Jerusalem, and a master's degree in engineering-economic systems from Stanford University. Cannabinoids, he says, can improve quality of life, and ease and slow down the development of the symptoms of various diseases. In some cases, cannabinoids can cure disease. "There is great scientific potential, and as a result, there is great commercial potential." Last month, Barak was in Davos, Switzerland to discuss the future of the medical cannabis industry on stage with Anthony Scaramucci, the former director of communications for U.S. President Donald Trump. The event was part of a three-day cannabis conference organized by Israeli accelerator and services company iCAN: Israel-Cannabis, and hosted by the Canada Pavilion during the World Economic Forum.
Among the attendees were Richard Carleton, the CEO of The Canadian Securities Exchange (CSE), an alternative stock exchange in Canada; Jason Paltrowitz, the executive vice president of New York-headquartered OTC Markets Group; and Bruce Linton, CEO and chairman of Canadian cannabis company Canopy Growth Corporation, which reported revenues of $40 million Canadian dollars for 2017. The event was sponsored by Vancouver-headquartered investment banking and financial services company Canaccord Genuity Group Inc.
Barak speaks passionately about the interest cannabis companies drew at Davos, listing the international cannabis companies and investors who attended the event.
In the 48 hours after the announcement of his appointment as InterCure's chairman, the company's stock price went up by 40%, but Barak puts the attention the company is getting in a broader context. A December Reuters report according to which InterCure plans to list on Nasdaq by mid-2019 contributed to investors' interest. "No one invests because of someone's beautiful blue eyes or because he was a prime minister. Canndoc is one of only four Israeli companies to obtain a local growing and production license according to Israel's strict standards. Other companies will get licensed, but it is not an easy process. We are the only ones with more than a ton of medical cannabis ready for export." Barak also credits InterCure's controlling shareholder Alex Rabinovich when it comes to traction in capital markets. Rabinovich is a serial entrepreneur and investor in the field of biotechnology. In addition to being the controlling shareholder of InterCure, he holds a 25% stake in Israeli pharmaceutical company XTL Biopharmaceuticals Ltd. But Barak's name and his connections have proved valuable to the company so far. Swiss-based Jewish Billionaire Gary Fegel, who has been dubbed by Israeli media "Ehud Barak's billionaire" for having invested in several companies he was introduced to by Barak, has invested $6 million in October as part of a private placement. On Monday, Fegel's wife, Yael, bought 1.73 million of InterCure's shares for NIS 17.5 million, increasing the couple's share of the company to 14.5%. In November, WeWork CEO Adam Neumann has invested $5 million in InterCure in return for a 4.5% stake in the company. Between 2001 and 20016 Barak advised to large U.S. hedge funds. "I know all the relevant people, including CEOs of the world's largest banks and private equity funds. It helps when you have someone who can call up these people but the professional core and experience Canndoc brings is essential." Q: Some people describe you as no more than a famous face to be affiliated with the company. Is there truth to it?
A: I have a master's degree in engineering-economic systems from one of the best universities in the world, a wealth of experience in managing large networks, both in the defense sector and as prime minister; I have capital market experience. I don't feel like decoration. I know exactly what I'm doing. I know the people who are the managers of the managers of the people who sit with us check the company in terms of underwriting. I know them from closed discussions, conferences, and meetings on geopolitical issues.