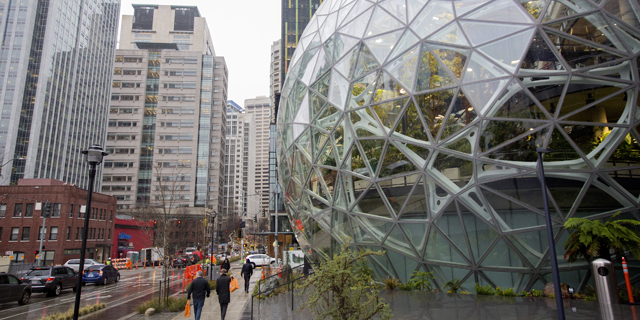 CTech's Monday Roundup of Israeli Tech News
Israeli banks discuss possible collaborations with Amazon; An overview of technology banking
Israeli banks discuss possible collaborations with Amazon. Among the options discussed are providing bank credit card holders with Amazon discounts, and bank accounts dedicated to shopping on the online retailer's websites.
Read more
Read more
Taiwan's Chroma to pay $74 million for 20% of semiconductor company Camtek. Nasdaq and Tel Aviv-listed Camtek develops semiconductor and printed circuit board products.
Read more
Microsoft launches medical AI service. The service, intended to enable healthcare organizations to build and deploy AI-powered virtual assistants and chatbots, was spearheaded by a team from the company's Israeli research and development center. Read more
Unilever taps Optimove for marketing technology. Founded in 2009, Optimove provides data and analytics-based services for planning, executing, measuring, and optimizing customer marketing plans. Read more
Cybersecurity company Forescout jumps on earnings. The company has gained 17.85% on Nasdaq on Friday after announcing its results Thursday.
Read more
Israeli environmental organization petitions against wind turbine project. In a petition to Israel's Supreme Court, nonprofit organization Society for the Protection of Nature in Israel requested to halt a project by Tel Aviv-listed Enlight, claiming it failed to include measures to protect birds from harm.
Read more
NYSE-Listed TAL Education Group acquires test-prep startup Ready4. Ready4 develops an artificial intelligence-based platform that provides personalized online test prep and university admissions guidance. Read more
Israel launching environmental sustainability lab. Companies selected to participate in the lab will be eligible for financial support of up to 85% of the approved project's budget, up to a maximum of $274,000. Read more
Nonprofit Tmura donated $439,000 from Israeli startups in 2018. Tmura receives equity stock and stock option donations from Israel-related startups and donates the proceeds to nonprofit organizations in the country.
Read more
GrowthX appoints Israel country manager. The San Francisco-based venture capital firm appointed Israeli businessman and diplomat Elad Goz.
Read more
Israeli venture capital fund Glilot adds Itzik Mizrahi to investment team. Founded in 2011, Glilot has invested in 20 companies to date. Six of its portfolio companies have been acquired thus far.
Read more