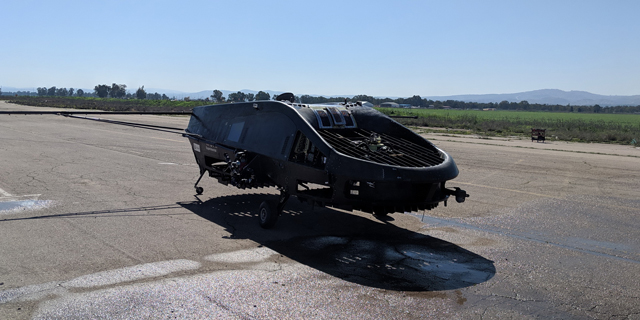 Video
Israeli Rescue UAV Adapted for Pesticide Spraying
Pesticide manufacturer Adama has partnered with Israeli UAV developer Tactical Robotics to repurpose its vertical take-off UAV to agricultural use
Hezi Sternlicht and Nitsan Sadan
|
18:19 25.03.2019
Pesticides manufacturer Adama Agricultural Solutions Ltd. has partnered with Tactical Robotics Ltd., an Israeli aeronautics company to adapt the latter's unmanned aerial vehicle (UAV) for aerial pesticide spraying.
For daily updates, subscribe to our newsletter by clicking here.
The Cormorant, developed by Tactical Robotics, is a vertical take-off UAV originally designed as a remote-controlled aerial rescue vehicle, able to fly low and inside obstructed terrains. It can carry a payload of more than 500 kilograms, take-off without a designated airstrip, and be transported by truck. Used as a pesticide spraying UAV it could eliminate the risks of pilot injuries and improve pesticide penetration by flying lower than manned planes. Tactical Robotics is a wholly owned subsidiary of Urban Aeronautics Ltd. It develops aerial vehicles for military and homeland security uses.
Adama manufactures and markets crop-protection products such as herbicides and insecticides. Formerly named Makhteshim-Agan, the company is the product of a 1997 merger between two Israeli companies—Makhteshim, founded in 1952, and Agan, founded in 1945. In 2011, the company was acquired by ChemChina Group, rebranding in 2014 as Adama. In 2017, Adama merged into Shenzhen-listed Hubei Sanonda Co. Ltd. The company employs 6,600 people and markets its products in more than 100 countries.