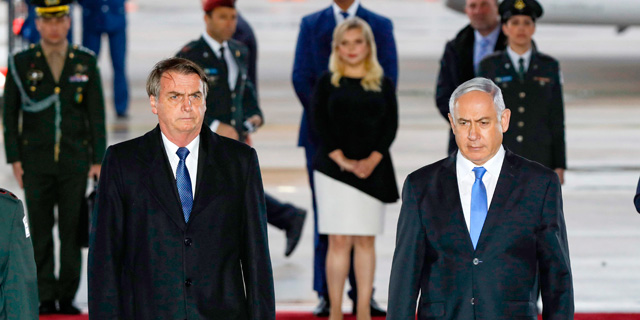 Brazilian President Jair Bolsonaro Arrives in Israel
Before his inauguration, Bolsonaro gestured that he will be following Trump's lead and move Brazil's embassy in Israel from Tel Aviv to Jerusalem
Adi Pick
: 2019-03-31T13:36:15..
Brazilian President Jair Bolsonaro arrived in Israel Sunday, 10 days ahead of Israel's general election, set to take place on April 9. The far-right Bolsonaro was welcomed at the airport by Israeli Prime Minister Benjamin Netanyahu. The two are set to address the media later on Sunday, Netanyahu's office said in a statement.
For daily updates, subscribe to our newsletter by clicking here.
This is the leaders' second meeting after Netanyahu attended Bolsonaro's inauguration in January. Before his inauguration, Bolsonaro gestured that he will be following U.S. President Donald Trump's lead and move Brazil's embassy in Israel from Tel Aviv to Jerusalem. During his recent trip to Brazil, Netanyahu stated that Bolsonaro told him he will be moving the embassy to Jerusalem "by March."