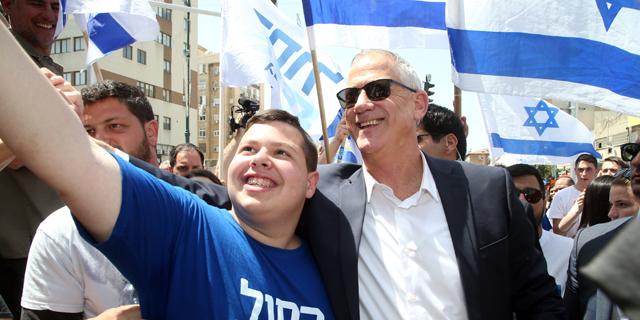 CTech's Weekly Roundup of Israeli Tech News: Election Edition
After counting the last 235,000 votes cast, Israel's Central Elections Committee announced Thursday the final results of the country's general election, held Tuesday. The final tally pushed Netanyahu's ruling Likud party to 36 seats, giving him a one-seat advantage over the centrist Blue and White party led by former chief of staff of the Israeli military Benny Gantz, which received 35 seats
CTech
: 2019-04-12T09:52:56..
After counting the last 235,000 votes cast, Israel's Central Elections Committee announced Thursday the final results of the country's general election, held Tuesday. The final tally pushed Netanyahu's ruling Likud party to 36 seats, giving him a one-seat advantage over the centrist Blue and White party led by former chief of staff of the Israeli military Benny Gantz, which received 35 seats. Despite the New Right Party led by former ministers Naftali Bennett and Ayelet Shaked missing the electoral threshold by 1,461 votes, Netanyahu is assured a coalition with thr announced support of the right-wing and ultra-Orthodox parties. Read more
10,720 polls opened their doors
to more than 6.33 million eligible voters.
Some voters went as far as flying
across the globe to have their say. With the final results of the election still up in the air,
Israel's business sector weighed in
on the challenges the new government will face. Due to Israel's multi-party system, it has a rather complicated election process.To understand it, one must be very good at math, according to
New York Times Jerusalem bureau chief David Halbfinger
. Researcher Dov Greenbaum, on the other hand, asks different questions:
how come the Startup Nation still uses paper ballots
, and whether emerging voting technologies up to the challenge? Days before the election, an anonymous Twitter user claimed that the details of 6 million Israelis have been compromised following
a voting system hack
. Political party apps opened the door to a slew of security breaches,
cybersecurity pioneer Check Point warned
in March. Social media, Twitter and Facebook especially, played a pivotal role in this year's campaign compared to previous years. Twitter suspended Chinese accounts
suspected of attempting to influence the election
, Buzzfeed reported. Concerned about potential manipulation of the upcoming election, in February, Facebook said it will launch a
political transparency tool in Israel
.
Netanyahu and his Likud party were bolstered by fake social media accounts, according to the New York Times, which cited Israeli watchdog group the Big Bots Project.
Netanyahu's biggest rival was Benny Gantz, leader of newly formed centrist party Blue and White, which garnered 35 parliament seats.
Some pundits say
Gantz's looks and svelte 190-centimeter frame netted him extra points. Some of Blue and White's rise in popularity, however, could be attributed to
Netanyahu's recent indictment
on several counts of bribery, fraud, and breach of trust. Another less known but no less important campaign took place this week alongside the national election. The Jerusalem Biblical Zoo had
its own election this week
, with kangaroos promising to fill voters' pockets and elephants vowing to uphold national security. The predators' party prevailed, with 22.5% of the votes.