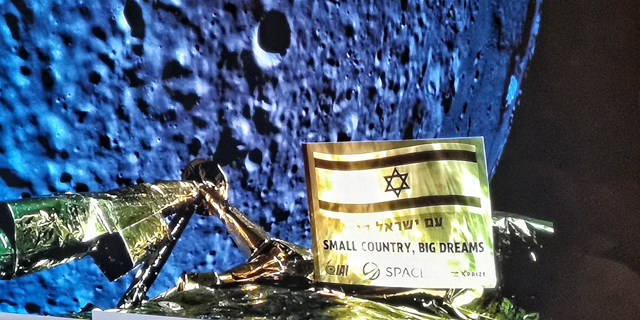 Israel to Shoot for the Moon, Again
On Saturday, Beresheet developer SpaceIL tweeted a video of its president Morris Kahn announcing the establishment of Beresheet 2
Adi Pick
|
09:29 14.04.2019
Less than 48 hours after Israeli spacecraft Beresheet crashed on the moon due to engine failure, billionaire Morris Kahn, who donated approximately $40 million to the moon-landing attempt, announced that there will be another attempt to land an Israeli spacecraft on the moon.
For daily updates, subscribe to our newsletter by clicking here.
Beresheet—Genesis in Hebrew— started as a private attempt by Israeli nonprofit organization SpaceIL, which Kahn currently chairs, to win Google's 10-year space race competition Lunar X Prize. Israeli state-owned defense contractor Israel Aerospace Industries Ltd. (IAI). also took part in its development, which continued even after the competition ended with no timely winner.
On Saturday, SpaceIL tweeted a video of Kahn announcing Beresheet 2.
"We're going to put it on the moon and we're going to complete the mission," Kahn said.
The dream goes on! Morris Kahn just announced the launching of Beresheet 2.0 #Beresheet2.0 #IsraeltotheMoon pic.twitter.com/fHlo3jeQ4W

— Israel To The Moon (@TeamSpaceIL) April 13, 2019
Successfully completing its landing would have made Beresheet the first private spacecraft to land on the moon, making Israel the fourth country to achieve a moon landing. Instead, it crashed on the moon, making Israel the seventh country to reach lunar orbit.
Thomas Zurbuchen, the associate administrator for the science mission directorate at NASA, tweeted his support for Beresheet 2.0 and said NASA "will be right there" with SpaceIL for the next journey.
"A winner is a dreamer who never gives up", Nelson Mandela

We at NASA will be right there with you again @TeamSpaceIL, to support wherever we can #Beresheet2.0 #explore https://t.co/5HKyCzpmKD

— Thomas Zurbuchen (@Dr_ThomasZ) April 13, 2019