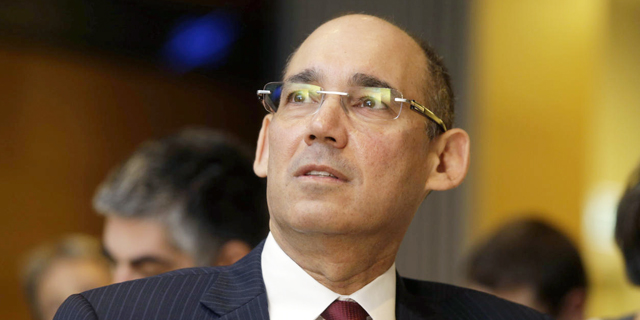 Israeli Fintech Startups Take On Israel's Central Bank
Several players in Israel's fintech ecosystem allege that the Bank of Israel is preventing access to data, hindering competition
Omri Milman
|
12:29 21.04.2019
Israeli fintech startups are taking on Israel's central bank for what they say is a policy of withholding data and hindering competition. In a letter sent to the Bank of Israel's Governor Amir Yaron and reviewed by Calcalist, some 20 fintech companies including BTB, Credorax Inc., Articode Ltd., and Cash-Up demanded access to the financial data of customers with accounts in Israeli banks.
For daily updates, subscribe to our newsletter by clicking here.
Currently, private account information is available only to customers and their bank and cannot be accessed by other financial players. In the letter, the companies asserted that providing them with access to the requested data will help them offer consumers market-encompassing price comparison services.
announced
it will offer an application programming interfaces (API) protocol intended to provide fintech companies with easier access to databases, but the bank estimated the infrastructure will not be ready before 2021. A similar reform in Europe took seven years to complete, which is why the law included temporary provisions, such as the read-only access, intended to increase market competitiveness sooner. Speaking on conditions of anonymity, two Bank of Israel executives told Calcalist that there is unanimous agreement among all relevant authorities—the ministries of finance and justice, the Capital Market and Insurance Authority, and the bank itself—that the read-only clause is rife with risk and should be rewritten as part of the work on the API protocol. The bank opposed the law when it was passed in 2017. Another complaint raised by the fintech companies is lack of communication with the Bank of Israel's banking supervision division, which has led them to believe that the protocol currently being set up would not necessarily fit their needs. As long as the supervision division does not intervene, banks in Israel will have no incentive to cooperate with fintech companies which act as competitors to traditional banking institutions, they said.
recent recommendation
to establish a regulatory sandbox for fintech startups, intended to provide companies with a way to operate without creating risk in the market. The Israeli ministry of finance published a call for information on the issue in August 2017, but when the inter-ministerial team published its recommendations in February, many of the local players were disappointed to find out the team did not outline a clear regulatory framework. According to the Israeli Ministry of Finance, there are around 400 home-grown fintech companies, but only a few of them provide their services locally. Many companies in the field cite regulatory difficulties as their reason for avoiding the Israeli market.