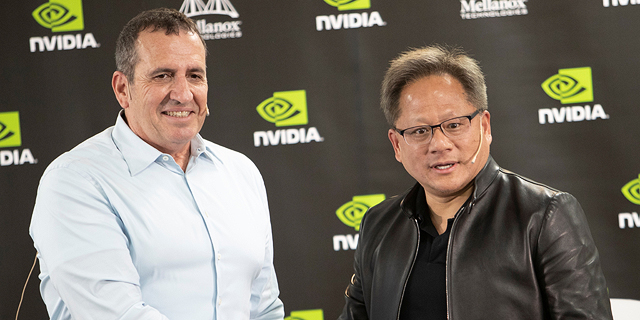 The Gap Between Nvidia and Intel's Mellanox Bid? $148 Million
A Monday SEC filing by Mellanox revealed additional details about the negotiations that led to Nvidia's $6.9 billion acquisition deal
Golan Hazani
|
11:16 24.04.2019
$148 million, or $2.5 per share, was the difference between the offer Intel Corp. made for Israeli chipmaker Mellanox Technologies Ltd. and the winning offer made by Nvidia Corp., according to a shareholder meeting announcement Mellanox filed Monday with the U.S. Securities and Exchange Commission. In March, Nvidia announced it would acquire Mellanox for $6.9 billion, having agreed to pay $125 per share.
For daily updates, subscribe to our newsletter by clicking here.
Monday's filing revealed that seven companies took part in the acquisition race for Mellanox, but only three made it to the final stage: Nvidia, Intel, and chipmaker Xilinx Inc., which was the first interested party reported. The first offer for Mellanox was made in August 2018, valuing the company at $102 per share, a 33% premium on Mellanox's stock price at the time.
The filing shed additional light on the future of Mellanox co-founder and CEO Eyal Waldman, who will be entitled to a compensation of $31.5 million if he is let go within 12 months of the deal's completion. While Nvidia CEO Jensen Huang said he has asked Waldman to stay on for the foreseeable future, Waldman himself was less willing to make a definitive statement regarding his future in the company.
Monday's filing also revealed that JP Morgan and Credit Suisse, which advised Mellanox in the bidding process, will receive $73 million and $44 million, respectively.
According to the filing, in December 2018 Mellanox shared its unaudited prospective financial information for years 2018 through 2022 with its potential buyers. At the time, the company estimated its revenues will reach $1.35 billion for 2019, $1.585 billion in 2020, $1.817 billion in 2021, and $2 billion in 2022.
The company estimated that its non-GAAP net income will reach $404 million, or $7.27 per share, in 2019, $522 million/$9.05 in 2020, $648 million/$10.79 in 2021, and $692 million/$11.07 in 2022.