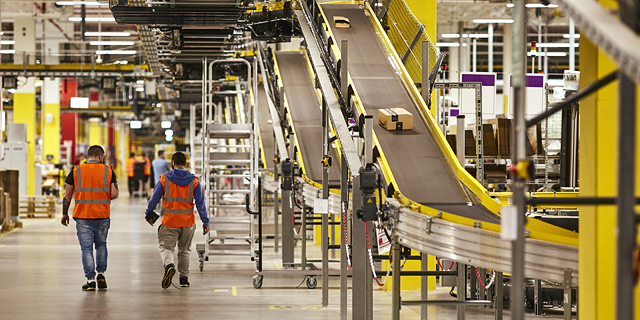 POV
Amazon Can Have its Cake and Eat it, Too
Amazon is so massive, even an announcement of it entering a new domain can cause the valuation of other retailers to fall. Its entrance into Israel will necessarily change the market
Uri Pasovsky
|
16:28 01.05.2019
Between August 2017 and September 2018, Amazon let go some 300 employees from its Baltimore warehouse, according to a
report
made last week by The Verge. The reason? They were not productive enough. The warehouse employs 2,500 people overall, out of 125,000 full-time workers Amazon employs in its U.S. warehouses.
For daily updates, subscribe to our newsletter by clicking here.
More noteworthy, however, is that according to documents obtained by The Verge, those employees were fired by an algorithm that tracks productivity. Amazon's algorithm can automatically issue warnings and even termination letters for employees who fail to meet their quota. In a comment, Amazon clarified that a human supervisor must first approve any terminations, and also give any notices.
tech talent
. Amazon's dominance has drawn the interest of researchers in recent years, many of which see the company as a symbol for the reemergence of monopolies. When Amazon announced its intention to acquire Whole Foods in 2017, the valuation of all other food retailers dropped, said last year in an interview with Calcalist Lina Khan, then director of legal policy at Washington-based anti-monopoly think tank the Open Markets Institute. "What other company can sink the valuations of Fortune 500 companies just by announcing an intention to enter their domain?" When Amazon mentioned the possibility of entering the healthcare industry in 2018, tens of billions of dollars were erased from the valuations of other companies in the domain, Khan said, adding that when one player has such a large influence, it signals the system is deeply flawed.
That way of thinking is not limited just to academics; in U.S. Senator Elizabeth Warren's Democratic primary campaign, a major tenet was her call to break up tech Giants such as Amazon.
Amazon's
imminent entrance
into the Israeli market will presumably shake up local retailers and force them to become more innovative and efficient. It will benefit local consumers, though not necessarily competitors or employees. As Kahn explained, those who must contend with the challenges posed by the likes of Amazon are not consumers, but regulators and politicians via political tools. Israel's tech industry may be at the forefront of technological innovation, but Israeli consumers themselves have yet to truly feel the impact of those companies that best symbolize the economy of the 21st century—whether because they were barred by local regulators, like Uber
was
, or because they have kept away from a small market like Israel. Amazon's arrival stands to change this reality, for better or for worse.