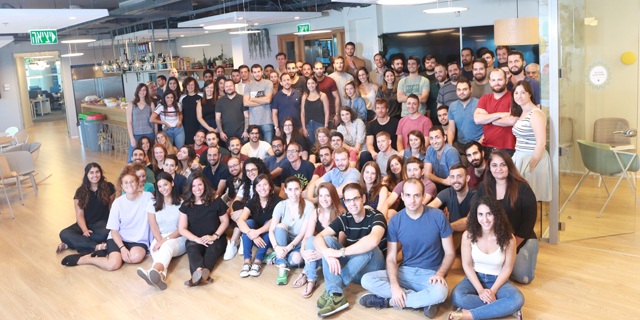 Top Startups
Calcalist's Top 50 Startups 2019: #11-#17
Super-fast databases and user-generated marketing content
Hagar Ravet and Meir Orbach
|
14:08, 08.05.19
Every year on Israel's Independence Day Calcalist releases a ranking of the country's top 50 most promising startups. To assemble this list, Calcalist approached many of the country's most prominent investors, advisors, and entrepreneurs. We asked them which are the fastest-growing companies and which are the most profitable. We asked which companies enjoyed the biggest momentum in the past year, and which had the highest chance of making a meaningful business step in the coming year. The final list was assembled based on an analysis of this survey and on the insights of Calcalist's tech writers and editors, who have a deep knowledge of the inner workings of Israel's tech ecosystem.
See Calcalist's top 50 startups project here.
Below are the companies ranked 11-17 on Calcalist's list.
#11 Lightricks Ltd.
Founders: Zeev Farbman, Amit Goldstein, Itai Tsiddon, Nir Pochter, Yaron Inger
Year founded: 2013
Number of employees: 200
Funding: $70 million
Founded in 2013, Lightricks develops image and video editing mobile apps, including selfie-editing app Facetune and visual media editing app family Enlight. Its apps have been downloaded over 100 million times and have over 1 million paying subscribers.The company has approximately 200 employees and reported more than $50 million in revenues in 2018.
#12 Monday.com Labs Ltd. (formerly DaPulse Labs)
Founders: Roy Man and Eran Zinman
Year founded: 2012
Number of employees: 230
Funding: $84 million
Founded in 2012, Monday.com develops and markets team management services for organizations and businesses such as universities, hotels, restaurants, and manufacturing companies. Monday.com's platform allows users to manage and track projects, manufacturing lines, and schedules, among other processes. In 2018, the company reported $50 million in annual revenues. Approximately 62,000 companies use Monday.com's platform, and the company forecasts it will surpass $100 million in annual revenues in 2019.
In the future, Monday.com wants to become an operating system for all of an organization's ongoing activities. The company landed a $50 million funding round and a credit line of tens of millions of dollars from LeumiTech in July 2018.
#13 Via Transportation Inc.
Founders: Daniel Ramot and Oren Shoval
Year founded: 2012
Number of employees: 400
Funding: $387 million
Via developed and operates a carpooling ride-hailing app. Via's app matches multiple passengers headed the same way with a single large SUV or van. Seven years after its founding, Via launched its services in Tel Aviv last month, in collaboration with Israeli public transportation company Dan Bus Company. The company operates in 50 cities globally. In 2017, Via received a $250 million investment from automaker Daimler AG, with whom Via is also collaborating on the development of electrical and autonomic vehicles. The company has raised $387 million in equity to date. Established in 2012, New York-headquartered Via has around 200 employees in Israel, the U.S., and Europe.
#14 Redis Labs Inc.
Founders: Yiftach Shoolman and Ofer Bengal
Year founded: 2011
Number of employees: 300
Funding: $138 million
Database software developer Redis Labs develops and sells database software based on a popular open source database called Redis. The company lists American Express, Visa, Wallmart, eBay, Starbucks, Twitter, Apple, Cisco, and Dell among its customers. Redis Labs forecasts $200 million in revenue in 2020. Founded in 2011, Redis Labs employs 200-people in Israel, California, London, and Paris. To date, it has raised $146 million in equity funding from investors including Goldman Sachs, Dell Technologies Capital, Viola Ventures, and Bain Capital.
#15 Yotpo Ltd.
Founders: Tomer Tagrin, Omri Cohen
Year founded: 2011
Number of employees: 400
Funding: $101 million
Yotpo enables brands and online retailers to manage and respond to different types of user-generated online content that is related to their products and services. The company also offers an artificial intelligence-based analysis tool for customer reviews. Clients include GoPro Inc. and American department stores chain Sears. To date, Yotpo has raised $101 million, $51 million of that sum in November 2017. The company employs 400 people in its New York headquarters, its Tel Aviv research and development center, and its additional offices in Utah and London. Yotpo intends to hire 50 additional people by the end of the year. In August, Yotpo acquired Swell Rewards, a Boston-based e-commerce incentive marketing company.
#16 SimilarWeb Ltd.
Founders: Or Offer
Year founded: 2009
Number of employees: 420
Funding: $112 million
SimilarWeb, which offers data tracking and digital market research services to premium customers such as Airbnb, HSBC, eBay, and Walmart, has reached $100 million in annual revenues last year. The company enables users to receive analytics and insights on engagement, traffic, and popular keywords, for both their own websites and apps and those of their competitors. The company employs 420 people, 300 of whom in Israel. SimilarWeb has raised $112 million to date. The company was founded in 2007 by Or Offer.
#17 Optimove (Mobius Solutions Ltd.)
Founders: Pini Yakuel
Year founded: 2009
Number of employees: 230
Funding: $20million
Founded in 2009, data-based marketing company Optimove, registered as Mobius Solutions Ltd., provides data and analytics-based services for planning, executing, measuring, and optimizing customer marketing plans. The company employs 210 people in Tel Aviv, New York, and London. Optimove has raised $20 million to date. The company reports over 300 global clients, including multinational consumer goods company Unilever, fashion house Diane von Furstenberg, children apparel online retailer Hanna Andersson, and underwear company Spanx Inc.