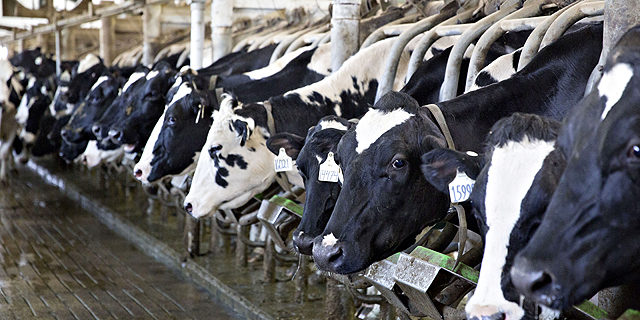 Kibbutz-Owned Dairy Farm Management Company Headed for an Exit
Afimilk, 69.5% of which is held by Israeli Kibbutz Afikim, develops and manufactures computerized systems for dairy farm and herd management
Golan Hazani
|
12:53 14.05.2019
Israeli Kibbutz Afikim and private equity firm Fortissimo Capital may be headed for an exit worth tens of millions of dollars. The two are currently in talks to sell 50% of their jointly held company Afimilk, incorporated as Afikim Ltd., to a European company, according to two people familiar with the matter who spoke with Calcalist on condition of anonymity.
For daily updates, subscribe to our newsletter by clicking here.
Afimilk develops and manufactures computerized systems for dairy farm and herd management. The company's flagship product is a leg sensor that can provide real-time reports on an animal's health, helping farmers to track factors such as fertility, milk quality, and productivity. The company has an annual turnover of NIS 200 million ($56 million), and an EBITDA of NIS 35 million to NIS 38 million ($9.8 million to $10.6 million). Most of Afimilk sales, 95%, are made internationally.
A once widespread socialist experiment, Israel's rural kibbutzim have evolved over the years into mostly private entities that make their living off agriculture and manufacturing with varying levels of prosperity. Prime examples are Kibbutz Hatzerim, which founded and still owns a stake in drop irrigation pioneer Netafim Irrigation Inc., 80% of which were acquired by Mexico-based pipes and chemicals company Mexichem SAB de CV in February 2018 at a $1.9 billion company valuation; and Kibbutz Yotvata, which still owns a 50% stake in major dairy manufacturer Yotvata Dairy, the other 50% owned by major Israeli food manufacturer the Strauss Group since 1997.
Other Kibbutzim have more recently repurposed their mass halls and other real estate into coworking spaces and startup hubs, trying to capitalize on the Israeli economy's main growth engine.