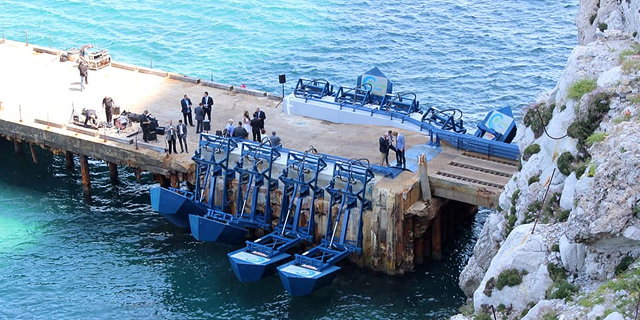 CTech's Tuesday Roundup of Israeli Tech News
Alternative energy company EWP gearing up for Nordic IPO; Searchlight reaches agreement to acquire controlling stake at Bezeq
Alternative energy company EWP gearing up for Nordic IPO. The Israel-based company designs and manufactures devices that convert wave energy into electricity.
Read more
Read more
Kibbutz-owned dairy farm management company headed for an exit. Afimilk, 69.5% of which is held by Israeli Kibbutz Afikim, develops and manufactures computerized systems for dairy farm and herd management.
Read more
In 2018, a quarter of the companies Samsung Catalyst invested in were Israeli startups. Samsung's multi-stage venture fund invested $300 million in total in 2018, according to Samsung Catalyst head Shankar Chandran.
Read more
Nvidia, HP back data storage startup WekaIO. San Jose and Tel Aviv-based WekaIO develops scalable file storage for data-heavy applications.
Read more
NSO's spyware used to tap phones via WhatsApp voice calls, report says. WhatsApp said a vulnerability in its app enabled attackers to infect devices with the Israeli company's spyware, according to a Monday Financial Times report.
Read more
When Technology Meets Music | The number of plays a song gets is the only thing that matters, says record label CEO. Steve Greenberg, who heads New York-based music label S-Curve Records spoke Monday at Calcalist's When Technology Meets Music conference in Tel Aviv.
Read more
When Technology Meets Music | Artists should not have to wait a year to get paid, says royalty distribution startup exec. Revelator develops a blockchain-based platform for royalty distributions to copyright owners.
Read more
Zebra Medical receives FDA clearance for automated chest X-ray analysis algorithm. Israel-based Zebra Medical develops AI-based algorithms for the automated analysis of medical scans such as X-ray, CT, and MRI. Read more
Home cannabis farming startup Seedo qualifies as U.N. registered vendor. Haifa-headquartered Seedo develops an automated device approximately the size of a mini-fridge used to grow cannabis at home under controlled conditions.
Read more
ServiceNow to buy assets of mobile analytics startup Appsee. ServiceNow is acquiring Appsee's in-app mobile analytics platform, intellectual property, and research and development team.
Read more