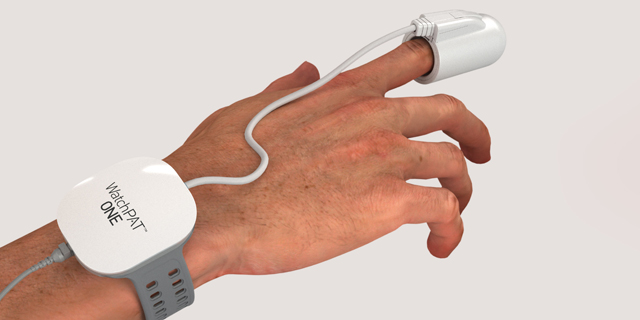 Itamar Medical Receives FDA Approval for Sleep Apnea Monitor
The newly approved product is a one-use, $100 version of the company's existing product, which retails for $5,000
Tzally Greenberg
|
17:02, 06.06.19
Nasdaq and Tel Aviv-listed medical diagnosis company Itamar Medical Ltd. announced on Thursday it has received approval from the U.S. Food and Drug Administration (FDA), to market its home monitor for sleep apnea, in the U.S. Sleep apnea is a sleeping disorder characterized by periodic halts in breathing during slumber.
For daily updates, subscribe to our newsletter by clicking here.
Established in 1997 in Israeli coastal town Caesarea, Itamar Medical develops and manufactures non-invasive diagnostic devices for sleep disorders and cardiovascular diseases.
The newly approved product, WatchPAT One, is a one-use version of the company's existing product, WatchPAT 300. While the previous product's data could only be extracted in a lab, the new product synchronizes the data in real time with the user's phone via an app. While the previous product, still available on the market, costs $5,000, the one-use version retails for $100.