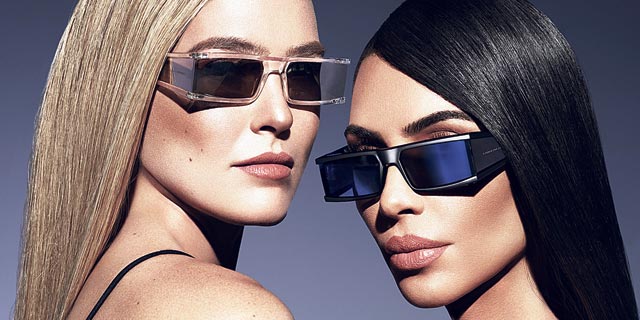 Bar Refaeli's Eyewear Company to Stop Selling Kim Kardashian West's Line in Israel
Israeli fashion eyewear company Carolina Lemke only sold 20,000 out of the 100,000 pairs it made as part of its collaboration with the media mogul
Orna Yefet
|
12:11 19.06.2019
Kim Kardashian West's eyewear line for Israeli fashion eyewear company Carolina Lemke Ltd., a subsidiary of fashion retailer Castro Model Ltd., is ceasing its sales in Israel, Yossi Gabison, founder of Carolina Lemke said in an interview with Calcalist. Kardashian West's scheduled visit to Israel to promote the line was canceled, and the collection was sent back to the U.S.
For daily updates, subscribe to our newsletter by clicking here.
The Kardashian West-designed line did not reach sales expectations, Gabison said, leading Carolina Lemke to withdraw the collection. Out of the 100,000 pairs of glasses made, only 20,000 were sold, Gabison said. But poor sales did not cause the Israeli company to terminate the collaboration with the California-based media and business mogul. Next week, Carolina Lemke is set to launch in the U.S. and Israel yet another collection designed by Kardashian West, Gabison said.
In September, Calcalist reported that Kim Kardashian West received a payment of $6 million in addition to 10% stake in the U.S. branch of Carolina Lemke as part of her collaboration with the company.
In 2017, Carolina Lemke hired Jeremy Ray Meeks, who in 2014 gained notoriety as the "hot felon," when the Stockton, California police posted his mug shot on social media after a gang-related arrest. Meeks starred in a series of controversial commercials for the company alongside Israeli supermodel Bar Refaeli, who owns a stake in Castro and has long been the brand's face.