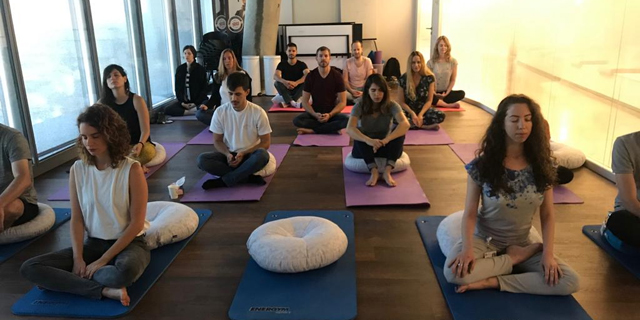 Israeli Tech Companies Discover Mindfulness, Years After Everyone Else
Mindfulness workshops and courses are the latest trend to hit tech companies eager to keep their team content in a country struck with severe talent crunch
Maayan Manela
|
13:08 20.06.2019
A career in tech can be very rewarding, but it is also highly demanding and requires employees to be able to function well and respond quickly under stress. With Israel's
notorious talent crunch
, many companies offer
various perks and benefits
to keep employees happy. The latest trend, hitting the country fashionably late by several years, is mindfulness.
For daily updates, subscribe to our newsletter by clicking here.
Originating from the ancient practices of Buddhism, mindfulness is a type of meditation that concentrates on the present moment, without judgment. Mindfulness helps practitioners focus their attention and become more attentive, reducing stress and improving work performance, Naama Katan, a mindfulness instructor, said in a recent interview with Calcalist.
The eight-session courses Katan gives in workplaces require participants to practice at home for 10-20 minutes each day and are completely voluntary. "You cannot force someone to come to a mindfulness course because it will defeat the purpose," she explained.
Meditation and mindfulness practice in the workplace became increasingly popular in the U.S. about three years ago, when 22% of employers offered such programs, according to data from Boston-based financial services company Fidelity Investments Inc. The first to embrace the trend were tech companies like Google, LinkedIn, and Apple, followed by multinationals such as General Electric and Unilever. Israel is now going through the same process and tech companies are in the lead here as well. At Tel Aviv-based software company Natural Intelligence Ltd., it all started from the employees themselves. About a year ago, three workers decided to practice for 15 minutes to alleviate the stress accumulated during the workday, Rotem Zlotnik Feingold, a recruiter for Natural Intelligence, told Calcalist in an interview. "That is about the same time as a coffee or cigarette break," she said. "Word got around, and pretty soon about a dozen people were meditating in our break room," she said. When setting up its new offices, Natural Intelligence dedicated a room solely to mindfulness complete with cushions and multimedia systems, for tuning in to meditation mentoring apps.
"I don't know if you can check the effect mindfulness has on productivity, but employees do claim it helps them produce better results," Zlotnik Feingold said.
Now, the company has started to offer a series of four one-hour mindfulness sessions. "Meditation is a tool that lets anyone working in a stressful, achievement-oriented environment develop a quiet inner space that helps them perform better at work, Ofer Shani, the host of the workshop said in an interview. Shani is a veteran web entrepreneur and was among the founders of Etsy-like arts, crafts, and design online marketplace Marmelada New Media Ltd. Cisco Systems' Israeli branch offers weekly mindfulness sessions as well as an online course for employees looking to practice at home. "We realize that it is not enough to provide employees with physical health perks and we needed to address their mental health as well," Shani Ginat, head of human resources at Cisco Israel and Greece, said in an interview. Mindfulness won't change your life, but it can get you to stop for a moment and reflect, and in time it helps you become more creative and focused, Eleonore Weil Sussholz, who is responsible for the mindfulness program at Tel Aviv-based shared office real estate company Urban Place, said in a recent interview. "Mindfulness is just a part of day-to-day life, like eating healthy."