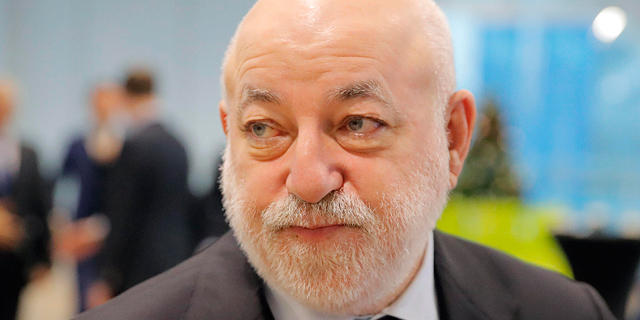 Shunned by the U.S., Russia's Most Westernized Oligarch Turns to Israel
For years, Viktor Vekselberg nurtured strong ties with the U.S., but then the government named him a persona non grata. With a newly obtained Israeli citizenship, he is now working to strengthen connections between the Israeli tech ecosystem and Russia
Sophie Shulman
|
15:59 26.06.2019
Russian oligarch Viktor Vekselberg was once a benefactor of Fifth Dimension Holdings Ltd., the
now-defunct
predictive analytics company that tarnished the careers of its chairman, Israeli general-turned-politician Benny Gantz, and president, former deputy head of Mossad Ram Ben-Barak.
For daily updates, subscribe to our newsletter by clicking here.
In a recent interview with Calcalist, Vekselberg talked about what led to the company's failure. "Fifth Dimension failed because its marketing strategy was incorrect," he said. "There was a serious strategic mistake, and it cost us $30 million."
number 119
on the 2019 list of the world's richest. A businessman and the owner of Moscow-based asset management company Renova Group, Vekselberg is on the inner circle of Russian Prime Minister Dmitry Medvedev, and is also close to President Vladimir Putin. For years, Vekselberg built a reputation as the most westernized of oligarchs, a sort of Russian ambassador to the U.S. who had a part in numerous collaborations between the two countries. Vekselberg was a donor and key figure at the prestigious Massachusetts Institute of Technology (MIT) and owned several properties in New York and Connecticut. And then, as the relations between the U.S. and Russia grew contentious, Vekselberg found himself in the thick of it. In March 2018, when his plane landed in New York, Vekselberg was detained for questioning by Special Counsel Robert Mueller and his team, as part of an investigation into possible Russian interference in the 2016 U.S. presidential election. The questioning pertained to Vekselberg's connections with Michael Cohen, Donald Trump's former lawyer, who is currently serving a sentence for fraud and violation of campaign finance laws. Vekselberg was released, but his connection to Trump is still being examined. A month later, in April, the U.S. Department of the Treasury listed Vekslberg among a group of Russian oligarchs, senior government officials, and companies suspected of supporting "malign activity around the globe," perpetrated by the Russian government. That designation imposes sanctions that prohibit U.S. citizens and companies from dealing with the people and companies listed. Overnight, Vekselberg became a persona non grata in the U.S. He was denied entry into the country, preventing him from seeing his daughter and grandson. Using the Countering America's Adversaries Through Sanctions Act, Vekselberg's American assets—valued at $2 billion—were frozen. To this day, U.S. nationals are better off not being seen with him. Currently, Vekselberg splits his time between Russia and Switzerland. Having been recently granted Israeli citizenship, Vekselberg is also considering buying a home in the country, he said. One of Russia's most famous people, he is practically unknown in Israel, despite frequent visits. Before his name became connected with Fifth Dimension, Vekselberg had successfully maintained a low profile.
On a personal level, he said, he wants to see the sanctions lifted as soon as possible, but he has no indication if that is even a possibility. "I've been in contact with all the U.S. administrations, met with Presidents Clinton, Bush, and Obama," he said. "When they placed these sanctions on me, I realized how little I knew about politics."