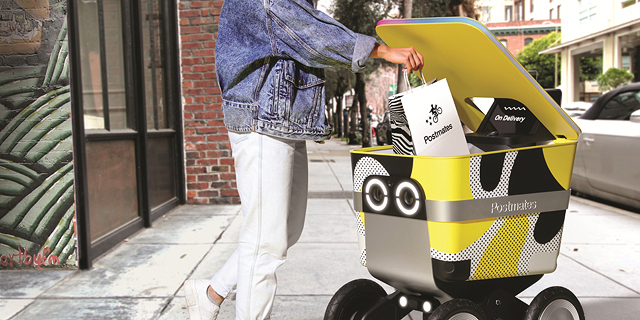 Interview
Design Should Help People Emotionally Relate to Technology, Says Fitbit Designer
Israeli-American designer Gadi Amit, the owner and president of San Francisco-based firm NewDealDesign, believes the human experience is intertwined with technology in the most intimate way
Keren Tsuriel Harari
|
08:31 05.07.2019
The human experience is intertwined with technology in the most intimate and emotional way, said designer Gadi Amit, the owner and president of San Francisco-based firm NewDealDesign. In a recent interview with Calcalist, Amit said he considers establishing a positive connection between people and tech as one of the main goals of his profession.
For daily updates, subscribe to our newsletter by clicking here.
Founded in 2000, NewDealDesign is most famous for its work on the design of Fitbit health and fitness trackers. The studio was awarded a National Design Award for product design by the Smithsonian's Cooper-Hewitt, National Design Museum in 2013. Among its clients are small startups as well as multinational tech companies, including Microsoft, Intel, Dell-EMC, and Comcast.
More recently, NewDealDeisgn was responsible for designing Serve, the autonomous delivery bot that popped up on the streets of San Francisco about six months ago. Developed by on-demand delivery company Postmates Inc., Serve resembles a large shopping cart and is equipped with two large eyes—stereoscopic video cameras whose input is analyzed in real time by machine learning algorithms—capable of blinking and even winking. The bot has LED string lights for signaling before making a turn and makes a noise before bypassing any pedestrians, in order to alert them to its presence. When the bot reaches its destination, the customer can communicate with it through a touch screen or a mobile app.
Serve is designed to solve the last mile problem. Instead of having to look for parking when picking up or dropping off a package, the human driver can stop anywhere and just send off the robot, which can carry up to 23 kilograms and travel up to 48 kilometers on a single charge.
"Streets belong to people, not robots," Amit said, explaining that when creating Serve, the goal was to design a robot that integrates well with its environment without disturbing pedestrians by making unexpected moves. According to Amit, he wanted the bot to be elegant and to bring a smile to people's faces. "We wanted it to be the emoji of delivery bots," he said.
Most delivery bots have a sterile design and do not communicate with their surroundings, Amit said, explaining the eyes were designed to be bigger than needed in order to encourage communication and invoke positive feelings.
56-year-old Amit was born in Tel Aviv. The son of an architect, Amit studied industrial design at the Bezalel Academy of Design in Jerusalem. In 1993, he joined San Francisco-headquartered design firm Frog Design Inc. Seven years later, he left to start his own studio, which now employs over 30 people, with a focus on tech-related projects.
Amit believes regulators should guard against what he calls "design for obsolescence," meaning design that is intended to become obsolete within a short time frame in order to encourage consumers to replace their devices frequently. "It is not just about the consumers, it is also about environmental preservation—we cannot keep throwing out products and making people buy new ones," he said, adding that a mobile phone should be designed to support improvements and upgrades so as to last seven or even 10 years.
"The industry is generally against it, seeing the regulator as an irrelevant and unwanted persona," Amit said. He does, however, see some change in this trend in the past two years with key figures such as Facebook's Mark Zuckerberg and Apple's Tim Cook, both speaking out in favor of involving lawmakers in the development process. Design is not just about the outer layer of the product, it is an essential part of its architecture and of its concept, Amit said. As he spoke, Amit pointed to the Fitbit on his arm, indicating that the screen remains dark as long as he does not actively turn it on.