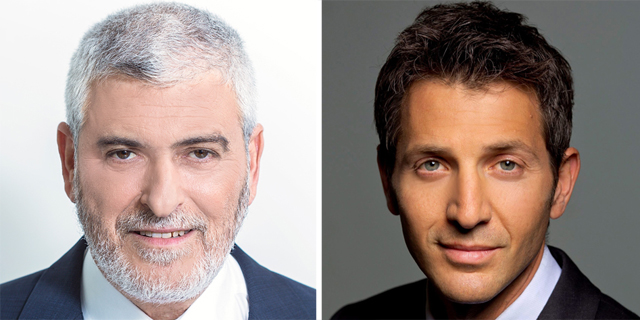 Analysis
One Is Home-Grown, the Other an Outsider: Discount and Hapoalim's New CEOs
Uri Levin is set to enter Lilach Asher-Topilsky's shoes as CEO of Israeli Bank Discount, and Dov Kotler will inherit Arik Pinto as CEO of Hapoalim. These are the challenges they will face
Raheli Bindman
|
14:27 16.07.2019
On Monday, Israeli banks Hapoalim and Discount announced their choices for their new CEOs. Hapoalim, one of Israel's two largest banks, will be headed by Dov Kotler, and Uri Levin will take on the lead role at Discount. The awaited announcements followed the recently announced
resignations
of Discount CEO Lilach Asher-Topilsky and Poalim CEO Arik Pinto. Another of Israel's largest banks, Leumi, has yet to announce a replacement for president and CEO Rakefet Russak-Aminoach, who announced her resignation two weeks ago.
For daily updates, subscribe to our newsletter by clicking here.
Discount's choice, Levin, is considered the protegee of Asher-Topilsky, who brought him in as head of planning, strategy, and financing in 2014. Since 2017, Levin has headed the bank's New York branch. In his last position before joining Discount, he served as CEO of global financial services firm ISP Group in Israel and Switzerland. He and Asher-Topilsky became acquainted a decade ago when Levin served as personal assistant to then-Poalim CEO Zvika Ziv, and later the manager of the corporate division, marketing, business development and strategy at Poalim.
designed to increase competition
in the financial sector, but Discount has seen growth in recent years that could force it to hand it off as well. While Asher-Topilsky, a strong and successful CEO by all accounts, has put Discount back on track in terms of its credit segment, Levin still has a lot of work to put in to bring the bank's business credit portfolio to the same level as the portfolios of Hapoalim and Leumi. While he will need to continue the streamlining and reorganization process Asher-Topilsky has started, Levin will have to decide if he is interested in keeping to the same aggressive growth strategy she led and turn Discount into a player equal to Hapoalim and Leumi.
Kotler, compared to Levin, was a more surprising choice. Formerly the CEO of Hapoalim's credit card business, Isracard, and before that of the Union Bank of Israel, since 2015 he has served as the chairman of real estate investment firm Iintoo Investments Ltd. He has bested in-house candidates, largely due to the support of external director Dalia Lev, who pushed to bring in someone from outside. Pinto, the exiting CEO, was against the choice, speaking Monday during the last meeting of the selection committee against the appointment of someone who is not familiar with the inner workings of the bank. This is the first time since 2003 that Hapoalim has appointed an outsider candidate as CEO.