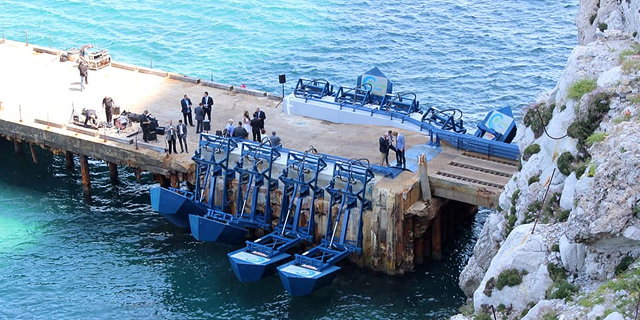 CTech's Monday Roundup of Israeli Tech News
Toyota, Volvo back automatic vehicle inspection startup UVeye; Volvo backs Israeli road traffic injuries analysis startup MDgo
Toyota, Volvo back automatic vehicle inspection startup UVeye. Founded in 2016, UVeye develops machine learning and computer vision technology for the automatic external inspection of vehicles.
Read more
Volvo backs Israeli road traffic injuries analysis startup MDgo. MDgo develops an emergency services system for analyzing injuries incurred by passengers during a car accident using the car's existing internal sensors and connectivity capabilities. Read more
Alternative energy company EWP raises $13.6 million on Nordic IPO. EWP designs and manufacturers wave energy converters, which are devices that use wave motion to spin a generator and produce energy. Read more
Israel Competition Authority redefines monopoly rules for local market. New regulation will enable the authority to declare a company a monopoly even if it does not control the lion's share of the market, if it can commend prices much higher than it would in a more competitive market.
Read more
Website building company Wix to expand operations to Japan. Wix's new office, located in Tokyo, will host a marketing department and partnership team, and, starting in October, will also include a call center for Japanese customers.
Read more
From edible shot glasses to biodegradable plastics: eight companies reducing plastic waste. Tipa, SodaStream, and Incredibowl are some of the Israeli companies using technology to try and counteract Israel's bad plastic habit. Read more
Peer-to-peer loan startup Blender raises $22 million in debt financing, equity. Founded in 2014, Blender offers an online service that allows users to apply for a loan of up to 10,000 euros (approximately $12,350) or become lenders themselves.
Read more
Israeli defense contractor IAI to lay off hundreds of employees. A previous agreement with the workers' union, which expires in August, saw the state-owned company lay off 830 people and cut pay by 4%.
Read more
Fintech startup Personetics opens R&D center in Nazareth. Among the companies that operate outposts in the area are Microsoft, Amdocs, and Salesforce.
Read more