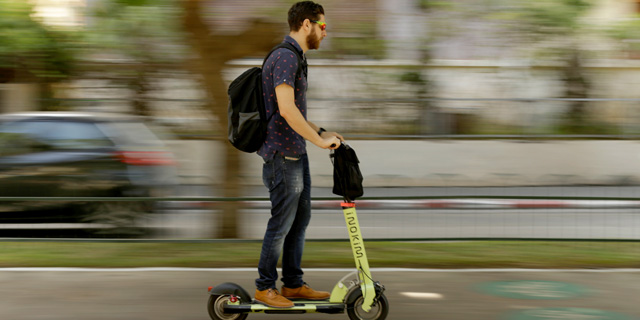 A New Bump in the Road for Tel Aviv's E-Scooter Users: DUI Charges
In Tel Aviv, considered the country's main micro-mobility hub, the police recently started screening electric bike and e-scooter users for alcohol levels
Udi Etsion
|
16:41 22.07.2019
Heading home from a Friday night party two weeks ago, R, a 26-year-old resident of Tel Aviv, opted to rent one of the many shared electric scooters scattered around the city instead of shelling out for a more expensive cab. To her surprise, she was soon pulled over by a police officer, administered a breathalyzer test, and found to be over twice the legal limit for driving under the influence. Her driver's license was revoked on the spot for 30 days and she was given a court date to stand trial.
R is not alone. In the first five months of 2019,
thousands of tickets were issued
to e-scooter and electric bike users who rode their vehicles on sidewalks in Tel Aviv, according to the city. Several people familiar with the matter who spoke on condition of anonymity told Calcalist that since July—when
new regulations
requiring users to have either a valid driver's license or a special license for electric two-wheeled vehicles came into force—dozens of people have been fined. In Tel Aviv,
considered the country's main micro-mobility hub
, police also started screening e-bike and e-scooter users for alcohol levels.
The new electric micro-mobility vehicles can pose just as much risk as other types of vehicles if not used in accordance with the law, Asher Halperin, the legal advisor for Israel's National Road Safety Authority (NRSA), told Calcalist.
Nineteen people were killed in e-scooter and e-bike accidents in 2018, compared with seven fatalities in 2017, according to data released by the NRSA.
A
recent report
showed 15 people were hospitalized due to e-scooter-related accidents in Israel in the first quarter of 2019, compared with eight in the same period last year.