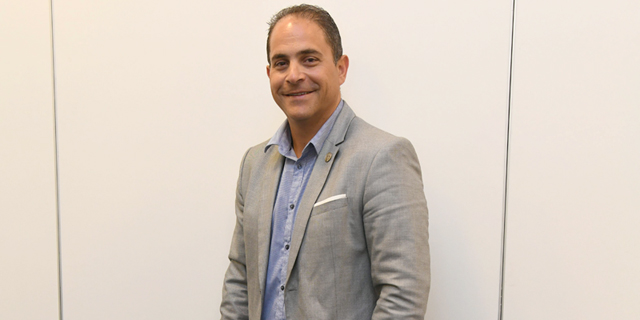 Interview
The Medical Market Should Focus on Value, Not Price, Says Medtronic Exec
Medtronic Israel country director Yaron Itzhari, who scouts the Israeli startup scene for potential acquisitions and investments, talked with Calcalist about the company's acquisition strategy, its special focus on Israel, and the current and future trends in the medtech industry
Tzally Greenberg
|
11:14 25.07.2019
NYSE-listed Medtronic PLC, an American medtech giant with a market capitalization of around $131.5 billion, seems in recent years to have singled Israel out as a target for acquisitions. Only 1,000 of its 90,000 employees are based in Israel, but eight out of its 100 subsidiaries are Israeli companies (after two were merged into other divisions), and it invested in another 10. Four of its Israeli subsidiaries, Medtronic "inherited" via its 2015 acquisition of Dublin-headquartered medical supply company Covidien PLC. Of the other six, the first was acquired in 1996, and the most recent one in November 2018: Tel Aviv-headquartered Nutrino Health Ltd.Medtronic paid $100 million for Nutrino, which provides nutrition-related data and analytics. Its biggest acquisition in Israel to date was of surgical robotics company Mazor Robotics Ltd., which it acquired in late 2018 in a deal that valued the company at $1.7 billion.
Medtronic Israel country director Yaron Itzhari, 46, who scouts the Israeli startup scene for potential acquisitions and investments, is therefore quite popular among Israel's medtech and biotech entrepreneurs.
The Mazor acquisition was a lengthy, multi-stage process, Itzhari said in a recent interview with Clacalist. Medtronic acquired a 12% stake in two phases in May 2016, paying $58.5 per share, an 11% premium at the time, and also signed a distribution agreement with the company. After a few years of collaboration, in September 2018, Medtronic decided to acquire Mazor, Itzhari said, explaining that Medtronic understands the global trend is heading towards robotics. "This trend is driven by a desire and a need to lessen the impact that different variables have on a treatment, for example the number of years of experience one surgeon has compared to another." Healthcare systems make price-based decisions, for example when deciding drug subsidies, when they should really make a value-based decision, Itzhari explained. "Take for example a pacemaker," he said. "It is a foreign object implanted in the body, and sometimes the body rejects the metal, causing infection." Medtronic, he said, developed an antibiotic coat that prevents those infections.
"When I meet an insurer, they always question why they should purchase the coating, since it costs an additional $1,100," Itzhari said. But Medtronic can show the added value that infection prevention gives using a series of tests the company performed over time. "The base price does not reflect the true cost over time, but a value-based calculation does."
Medtronic also develops and sells orthopedic equipment for spinal surgery. "Let's say the surgery was successful, but resulted in erectile dysfunction for the patient." Itzhari said. "Is it a success? I'm not sure." Success is measured over time, he said, when you can see the end result was an improvement in the patient's quality of life across all aspects. "That is why we repeatedly tell healthcare systems around the world that they need to make value-based budgets, not price-based ones." "Every second, there are two patients receiving treatment with Medtronic devices," Itzhari said. The company has around 30,000 products sold via several target audiences, he said: doctors and nurses, the government, and for products that are not subsidized, the patients themselves. While the financial data for Israel is classified, he said, on a global scale, the cardiac and vascular group brings in an annual $11.5 billion in sales, the minimally invasive therapies group $8.5 billion, the restorative therapies group $8.2 billion, and the diabetes group $2.4 billion. Medtronic expects its market to grow due to the global increase in lifespan, which brings with it more chronic diseases, he said. Asked about Medtronic's strategy of growing via acquisitions and not organic growth, Itzhari said that Medtronic wants to be a market leader, and acquisitions help the company stay innovative in terms of technology as well as business models and thinking. That is why they are now focusing on devices that could improve home care, or devices for preventive medicine and monitoring. Since the company's foundation in 1949, most of its products have been the result of organic development, he added, though over time the company moved to a model more reliant on acquisitions. The change started mostly when current Medtronic CEO Omar Ishrak assumed the role six years ago, Itzhari said. In his previous role as the CEO of GE Medical, he said, Ishrak made frequent visits to the company's R&D center in Haifa. His familiarity with Israel combined with the revolution in the global medtech industry and the medtech startup boom in Israel led to Medtronic's focus on the country, he said. Israel is Medtronic's largest research and development center outside the U.S., he added, with products like the company's pacemaker developed locally, and many innovations and solutions found here. The medical market is heading towards personalized medicine and medical devices need to enable that, Itzhari said. If two people exercise, one may see his sugar levels go down while the other may see them go up, due to differences in nutrition and lifestyle. Nutrino, which is a young startup, partnered with nutritionists to develop a way to monitor all of those aspects via a smartphone, he said, and one year later Medtronic paid $100 million for the company. "Why is it worth $100 million to us? Because the diabetes market is huge, and its technology provides us with very accurate feedback for our insulin pump," Itzhari said. "Today, it is not enough to balance the blood sugar level once a day. To be considered a success, it needs to be balanced 70% of the day. The algorithm Nutrino provides combines with our smart pump for an ideal solution." Israel is in a unique position, medically, Itzhari said, because a mandatory membership at one of the country's four health maintenance organizations (HMOs) means there are years of medical data collected here that put Israel at least three decades ahead of any other country. "Why is this important from a business point of view? Because in the medical world, to get to the point where someone is willing to pay you, you need to get past the data stage that shows whether the device or drug is effective."