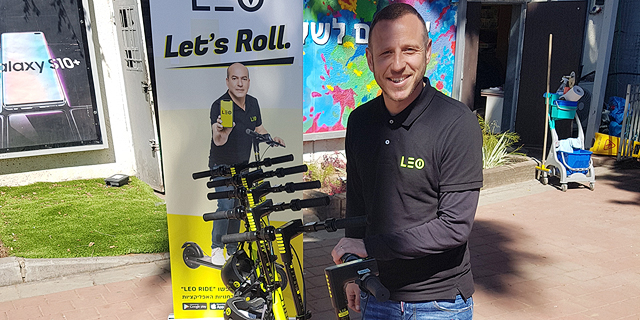 Ahead of New Regulation, Scooter-Sharing Service LEO Shuts Down Tel Aviv Operation
LEO intends to continue operating in other Israeli cities and to resume its Tel Aviv service at a later date
Tomer Hadar
|
11:05, 29.07.19
Ahead of new regulations that will come into force on Thursday in Tel Aviv, limiting the activity of electric scooter-sharing services, local brand LEO is stepping out of Tel Aviv to focus on other Israeli cities, according to one person familiar with the matter who spoke to Calcalist on condition of anonymity. LEO began collecting its vehicles from the city's streets on Sunday and has also retrieved dozens of vehicles confiscated by the city due to violations, the person said.
A spokesperson for LEO, which is operated by Israel-based electric scooter manufacturer Inokim, confirmed the details, adding that the company intends to re-enter Tel Aviv in the future.
LEO first started its activity in Tel Aviv in March as the fourth scooter-sharing brand in the city, alongside Los Angeles-headquartered Bird Rides Inc., Berlin-based Wind, operated by BYKE Mobility GmbH, and San Mateo, California-headquartered Lime, incorporated as Neutron Holdings Inc.
Tel Aviv recently shifted gears in its treatment of e-scooters, with the most prominent step being the new regulations, which will hold shared-scooter service operators responsible for users' obstructive parking, limit the number of vehicles per-operator to 2,500, and ban the use of alarm systems at night. In the first five months of 2019, the city issued 9,000 tickets to e-scooter and electric-bike users who rode their vehicles on sidewalks, and local police have also recently begun to systematically pull over e-scooter users for breathalyzer tests. Last week, the city announced it is now possible for residents to report illegally parked scooters via the city's official mobile app.