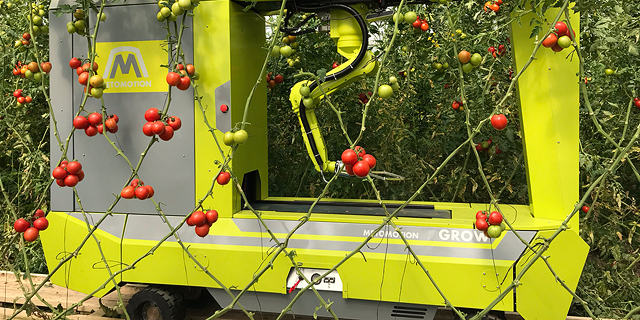 Brief
Tomato-Picking Robot Developer MetoMotion Raises $1.5 Million
MetoMotion's robot is also capable of performing other labor-intensive tasks in greenhouses, such as pruning and de-leafing
Adi Pick
: 2019-07-31T17:54:43..
Israel-based agriculture robotics startup MetoMotion Ltd. has raised $1.5 million, the company announced Wednesday. The company has raised $2.5 million to date, according to MetoMotion's CEO Adi Nir who spoke to Calcalist Wednesday.
Founded in 2016, MetoMotion develops a robotic system for labor-intensive tasks in greenhouses. Currently, the company's robot is able to pick tomatoes, using 3D vision and machine vision algorithms to identify and locate the tomatoes that are ready to be picked, and is designed for easy integration with existing greenhouse infrastructure. The company's robotic technology is also able to perform other labor-intensive tasks such as pruning and de-leafing, according to the company.