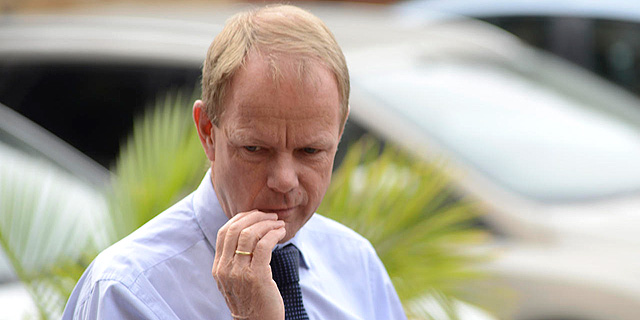 Analysis
Rivals' Earning Reports Should Have Teva's Shareholders Worried
Teva's leadership will break its self-imposed silence on Wednesday, when the company publishes its second-quarter report for 2019
Uri Tal-Tene
|
19:04 05.08.2019
The leadership of Teva Pharmaceutical Industries Ltd. will have to break its self-imposed silence on Wednesday, when the company publishes its second-quarter report for 2019. The last time CEO Kåre Schultz spoke with shareholders was in May, when the company released its first-quarter reports and was trading at $14.9 per share. But since then, Teva has taken two major hits. The first was accusations filed in a U.S. civil court against Teva and 19 other generic drugmakers, for allegedly conspiring together to create
a drug-fixing cartel
. The second, doled out by the
Washington Post
, revealed just how much responsibility for the U.S. opioid crisis could be laid at the feet of Teva subsidiary Actavis. Teva acquired Actavis from Allergan in 2016, and with it assumed the legal responsibility.
At the end of the first quarter, Amgen held 60% of the migraine market, Teva held 23%, and Eli Lilly held 17%. However, when it came to new prescriptions, Amgen held 40%, while the other two held 30% each. According to Amgen's reports, its sales increased from $59 million in the first quarter to $83 million in the second, mostly thanks to an increase in paid prescriptions from 60% in January-March to 74% in the second quarter. Eli Lilly saw its sales increase from $12 million in the first quarter to $34 million in the second. Data presented by Eli Lilly showed that its market share increased to 40%, Amgen's market share remained at 40%, and Teva's dropped to 20%. Presumably, Teva is facing a similar situation in Europe.
Ajovy's sales amounted to $20 million in the U.S. in the first quarter of 2019. A combination of factors—the growth of the entire market, an increase in paying users, the relative stability of Teva's market share overall, and a decrease in the new prescription market share—should see Teva's sales rise to around $36 million for the second quarter. The good news for Teva is that the U.S. sales of all three drugs combined are expected to grow from $91 million in the first quarter to $153 million in the second quarter, and that it is plausible that Teva could achieve its previously declared annual forecast—$150 million. The bad news is that Teva's share of the pie is limited.