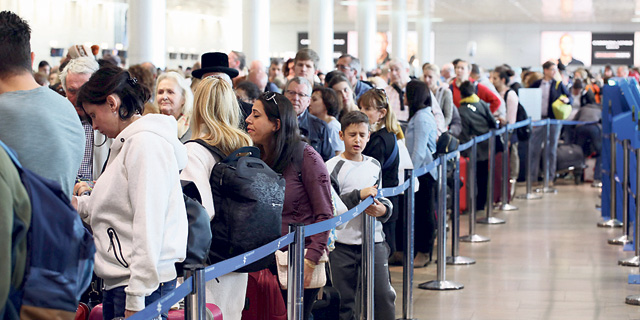 Flights Delayed at Ben Gurion Airport Due To Luggage Malfunction
At least 15 flights were delayed on Sunday during peak travel season due to a malfunction of the airport's baggage handling system
Itai Blumenthal, Ynet News
: 2019-08-12T12:52:10..
At least 15 flights scheduled to leave from Israel's Ben Gurion Airport on Sunday were delayed due to a malfunction of the airport's baggage handling system. The malfunction, which occurred during peak travel season, affected hundreds of passengers, many of whom were eventually forced to board their flights without luggage. Hundreds of suitcases were left piled at the airport's check-in counters, as the malfunction also affected baggage security screening.
The issue was resolved within 10 hours. In a statement on Sunday, the Israel Airports Authority confirmed the malfunction, saying the airport was addressing the problem.