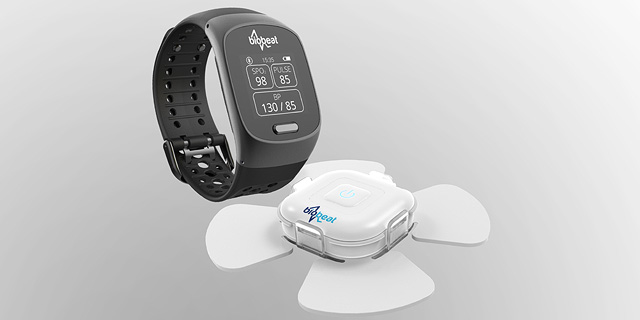 Biobeat Receives FDA Greenlight for Blood Pressure Monitoring Wristband
Israel-based Biobeat develops sensing and remote monitoring products with the aim of improving the quality of medical care both in-hospital and at the patient's home
Lilach Baumer
|
09:57 27.08.2019
Medtech company Biobeat Technologies Ltd. has received clearance from the U.S. Food and Drugs Administration (FDA) for its blood pressure monitoring wristband and patch combo, the company announced Monday. The company has already obtained the European Union's CE Mark.
Founded in 2016 and based in Petah Tikva, a town in central Israel, Biobeat develops sensing and remote monitoring products with the aim of improving the quality of medical care both in-hospital and at the patient's home. Its products, used to measure blood pressure, oxygenation, and heart rate, rely on reflective photoplethysmography (PPG), a non-invasive optical technique that uses light to estimate physical parameters of the cardiovascular and respiratory systems.
The company's wristband is worn on the wrist while the patch can be placed anywhere on the upper torso. Both items sync their data to a cloud, enabling remote monitoring.
"Remote monitoring of patient's vital signs requires completely different technological approaches than current practice," Biobeat's chief Medical officer Arik Eisenkraft said in a statement. "While blood pressure, heart rate and oxygenation are the backbones of monitoring, we will continue to work with the FDA to approve additional parameters for our devices."
Biobeat currently employs 15 people.