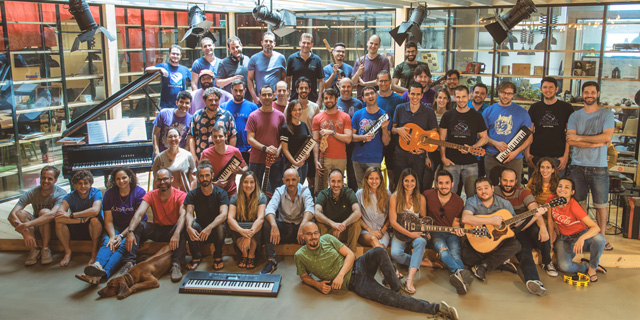 Music Education Startup JoyTunes Raises $25 Million
Simply Piano, JoyTunes' signature app, shows users which piano keys to press to play the song of their choice, and has more than 10 million downloads
Meir Orbach
|
16:00 27.08.2019
Music education startup JoyTunes Ltd. has completed a $25 million funding round, the company announced Tuesday. The round was led by Tel Aviv-based venture capital firm Qumra Capital with participation from existing investor New York-based venture capital and private equity firm Insight Venture Partners. The funding round brings JoyTunes' total funding raised to date to $43 million, the company said.
The company intends to use the new round of funding to expand its product offering rather than expanding its team, Joytunes founder Yigal Kaminka said in a Monday interview with Calcalist. The funds will be used to advance the company and not to buy back employee shares, he added.
Founded in 2011, JoyTunes develops apps that teach users how to play musical instruments. Simply Piano, JoyTunes' signature app, shows users which piano keys to press to play the song of their choice. Through the microphone on the user's phone or tablet, the company's technology is able to recognize in real-time which sounds are played. Simply Piano has 25 courses for different skill levels and hundreds of different songs spanning multiple genres.
The app has been downloaded more than 10 million times, according to company data. JoyTunes now has more than 200,000 paying subscribers and has surpassed $20 million in annual revenues, JoyTunes founder Yigal Kaminka said at Calcalist's conference on music and technology in May.
JoyTunes employs 50 people in Tel Aviv.