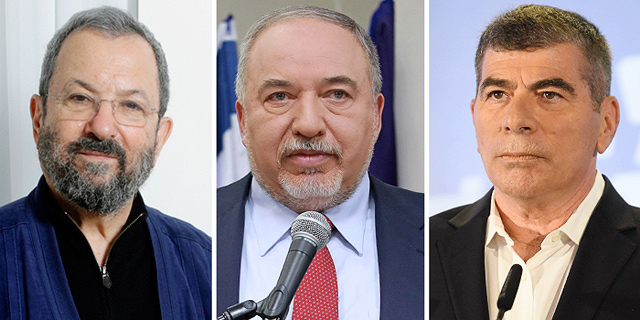 National Economic Conference
Calcalist's Economic Conference to Host Top Industry Leaders, Politicians in Tel Aviv
Held in collaboration with Bank Leumi, one of Israel's two largest banks, the conference will take place on September 2, at Tel Aviv's David InterContinental hotel
Naomi Zoref
|
17:49 28.08.2019
Top industry executives, as well as government and public sector officials, will gather at Tel Aviv's David InterContinental hotel on September 2 to take part in Calcalist's National Economic Conference. The conference will be held in collaboration with Bank Leumi, one of Israel's two largest banks. The event will focus on pressing issues on the Israeli agenda. Just two weeks ahead of the country's general election, the conference will explore politics, the state of the health and justice systems, and the effects
Amazon's entrance
may have on the local market.
As part of the conference, Calcalist's reporters and editors will interview Ayelet Shaked, head of Yamina (Rightward in Hebrew), a list composed of representatives of right wing parties the New Right, The Jewish Home, and Tkuma; former Prime Minister Ehud Barak, number 10 on the Democratic Union, a list composed of left wing and center parties Meretz, Democratic Israel, and the Green Movement; former Israeli military chief of staff Gabi Ashkenazi, number four on centrist list Blue and White, composed of parties Israel Resilience, Yesh Atid, and Telem; Avigdor Liberman, head of far right party Yisrael Beiteinu (Hebrew for Israel is our home); deputy health minister Yaakov Litzman of United Torah Judaism, a joint list made up of ultra-Orthodox (Haredi) parties Agudat Israel and Degel HaTorah; Amir Peretz, head of Israel's Labor party; and Yuli Edelstein from the ruling Likud party who is also speaker of the Knesset.
Also speaking at the event will be Emi Palmor, director general of Israel's Ministry of Justice, who was abruptly fired last month by interim Justice Minister Amir Ohana. Other prominent figures in the judicial system to take part in the conference include former vice president of the Supreme Court Elyakim Rubinstein and Judith Tirosh, the director of the securities department of the Israel Securities Authority.
Retail industry leaders will also attend to discuss Amazon's entrance and other changes in the local industry: Rami Levy, owner of supermarket chain Rami Levy Hashikma Marketing 2006 Ltd.; Rami Shavit, controlling shareholder and CEO of department store chain and holding company Hamashbir 365 Holdings Ltd.; Hay Galis, CEO of shopping mall chain BIG Shopping Centers Ltd.; David Vaknin, head of Leumi's small business division; and Yair Assael, head of UPS Israel.
The conference will end with a talk between Calcalist journalist Ouriel Daskal and olympic judoka Or Sasson.
The conference will also host the finals for Calcalist and KPMG Israel's Industry 4.0 startup competition. Competing startups are developing automation, connectivity, and data transfer technologies for factories and manufacturing lines. The winning startup will win a trip to Germany, including flights, accommodations, a round of meetings with potential clients, and mentoring from KPMG Germany.