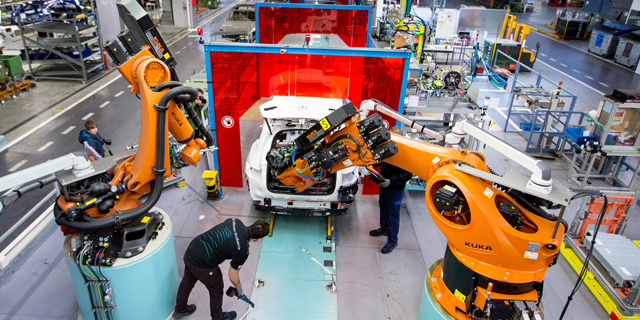 Meet the 11 Finalists of Calcalist's Industry 4.0 Startup Competition
The competing companies are developing automation, connectivity, and data transfer technologies for implementation in factories and manufacturing lines
Naomi Zoref
|
18:38 28.08.2019
Calcalist and KPMG Israel's Industry 4.0 startup competition is at its final stretch. Out of several hundred applications, 11 finalists were chosen to pitch their technologies at Calcalist's National Economic Conference to be held at Tel Aviv's David InterContinental hotel on September 2.
Industry 4.0 startups are revolutionizing advanced manufacturing. They support the traditional industry's move forward through automation, connectivity, and data transfer technologies to enable a more efficient process of production and decision making.
The winning startup will receive a trip to Germany, including flights, accommodations, a round of meetings with potential clients, and mentoring from KPMG Germany. Below are the 11 Israeli startups that will pitch their technologies at the finals event.
Founder: Joshua Herchcovici
Investors: Horizon 2020 (grant)
Funding to date: $4.15 million
Israel-based anti-bacterial fabric startup Sonovia Ltd., formerly Nano-Textile Ltd., develops a highly durable sonochemical coating for fabrics to make them anti-bacterial and odorless. Sonovia's technology can be used in various industries including healthcare, public transportation, air travel, sports, and fashion.
Feelit
Founded: 2017
Founders: Meital Segev-Bar, Gady Konvalina
Investors: undisclosed
Funding to date: undisclosed
Based in Haifa, a port city in Israel's north, Feelit develops printable sensors that can monitor the state of various materials. The sensors monitor a device's structural integrity, deformation, warping, wear and tear, internal or external pressure buildup, and internal or external material flow, and inform manufacturers and users of any change. The technology is based on research conducted at Technion Israel Institute of Technology.
Ideeza
Founded: 2017
Founders: Moran Bitton
Investors: undisclosed
Funding to date: $750,000 according to pitchbook data
Bnei Brak-based Ideeza wants to be for product development what Wix.com Ltd. is for website building. Ideeza offers an online product development service that allows users to design personalized IoT devices. The company employs 30 people in Bnei Brak, an ultra-orthodox suburb of Tel Aviv, and in India.
GOARC
Founded: 2015
Founders: Dror Barak, Haim Srur
Investors: undisclosed
Funding to date: undisclosed
GOARC develops and markets a cloud-based workplace safety service for both employees and managers. The company's technology collects data from various sources such as IIOT systems and enterprise systems such as enterprise resource planning (ERP) management software, and reports them back to operators, employees, and managers as scripts and safety guidelines.
Qsee
Founded: 2017
Founders: Rami Refaeli
Investors: undisclosed
Funding to date: $300,000 according to startup nation central
Qsee develops a software-based service that uses artificial intelligence and machine learning technologies to predict product quality control in process manufacturing plants in order to prevent defects in the early stages of the manufacturing process.
Fieldbit
Founded: 2014
Founders: Evyatar Meiron
Investors: Actemium, Axians, Atooro Fund, I2BF Global Ventures
Funding to date: $2.2 million, according to Pitchbook data
Fieldbit Inc. develops a real-time augmented reality collaboration service that connects field technicians with service centers though precise visual instructions.
Kitov.ai
Founded: 2014
Founders: Yossi Rubner, Nir Avrahami
Investors: HAHN Automation GmbH, Global IoT Technology Ventures Inc. (GiTV)
Funding to date: $10 million, according to Pitchbook data
Robotics startup Kitov Systems Ltd. develops artificial intelligence-based solutions for visual inspection in industrial manufacturing. The software uses golden parts, or unblemished examples for each component, to visually train robots for inspection tasks. When a component is cosmetically incorrect in comparison to the golden part, the software can classify and log the error.
Founded: 2017
Founders: Bar Saraf, Shimon Vainer
Investors: undisclosed
Funding to date: $150,000 according to CrunchBase
Based in Tel Aviv and San Francisco, RestAR develops technology that enables users to scan and render high-quality 3D content based on physical products, using only their mobile device.
Founders: Yaron Segev, Yaron Haviv, Asaf Somekh
Investors: Samsung SDS Co Ltd., Pitango Venture Capital, Verizon Ventures, Robert Bosch Venture Capital GmbH (RBVC), Jerusalem Venture Partners (JVP), Dell Technologies Capital
Funding to date: $48 million, according to pitchbook data
Herzliya-based Iguazio Systems Ltd. offers data management services and artificial intelligence tools designed to improve the performance, security, and scalability of machine learning applications. The company's Nuclio is an open-source serverless framework that enables the development of AI applications for manufacturing, healthcare, pharma, insurance, financial services, and telecommunications.
Founders: Barak Perelman, Ido Trivizki, and Mille Gandelsman
Investors: Liberty Technology Venture Capital, Shlomo Kramer, Centrica PLC, Magma Venture Partners, Vertex Ventures, Aspect Ventures
Funding to date: $36 million, according to Pitchbook data
Tel Aviv-based Indegy Ltd. provides cybersecurity technology for industrial control systems for manufacturing, pharmaceuticals, energy, and water companies.
Founded: 2014
Founders: Yaniv Dinur, Pini Usha
Investors: undisclosed
Funding to date: $1.17 million, according to Startup Nation Central
Progressive Labs Ltd. develops a cloud-based supply chain optimization service. The company's technology examines product performance in real-time and automatically sets the correct inventory levels for different stages of the supply chain.