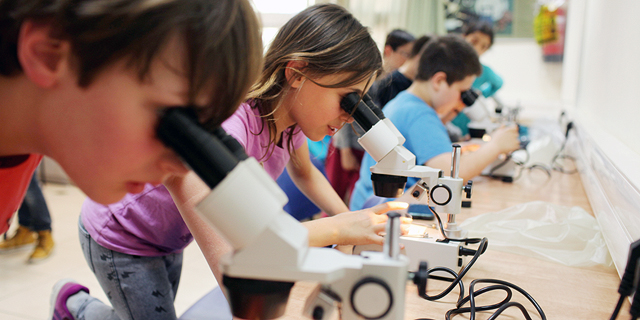 Back to School: 10 Ways to Improve Israel's Education System
How to help students prepare for the future job market? Ten experts offer unique ideas on how to make education in Israel more innovative and creative
Shahar Ilan
|
19:18 01.09.2019
The Israeli school year officially started on Sunday, with 2.6 million children and teenagers flocking to the country's educational institutions, according to data released by Israel's Education Ministry. From kindergartens and elementary schools to junior highs and high schools, teachers and educators are attempting to help shape students into productive future members of society, trying out various approaches and methods. Below are interviews with 10 experts sharing their unique ideas on how to make education in Israel more innovative and creative. Yaron Neudorfer, founder and CEO of Social Finance Israel: Invest in social impact bonds
Rinat Rosenberg-Kima, the Faculty of Education in Science and Technology, Technion Israel Institute of Technology: Social robots will assist teachers
Shay Tzur, a researcher at the Bank of Israel: programming as a mandatory course
its recommendations
to increase productivity in the country. Tzur was the researcher in charge of the education chapter and one of the main issues he pointed out was a significant gap between Israel and other OECD countries in the use of digital technologies in schools. According to the 2018 OECD Teaching and Learning International Survey (TALIS), 40% of Israeli principles stated they have a shortage of digital teaching aids, compared with an OECD average of 25%. The use of computers in schools needs to become much broader and programming should be a mandatory class, not just for those majoring in computer sciences, Tzur said in an interview.
More digital teaching aids could help with the country's shortage of quality educational staff, Tzur added. "If teachers could let some of the stronger pupils study independently on a computer, they could have more time to assist other students."
Shirly Avargil, the Faculty of Education in Science and Technology at Technion Israel Institute of Technology: escape rooms as skill tests
Rothschild believes the educational system tends to put too much emphasis on a student's weaknesses instead of focusing on their strengths. In its schools, ORT attempts to map out students strengths, as individuals, as a class, and as a school.
ORT uses this analysis to group students with similar strengths and weaknesses, using the subjects they are better at to help students overcome difficulties in other subjects. "There are quite a few students that have problems in a regular class but are very good at sports," Rothschild said in an interview. "I can have them research athletes from around the world to help them learn English or teach them sports-related physics, math, and biology." When it comes to art, talking about colors is basically teaching science and technology, he added. Hagit Elias, CEO of Momentum The Growth Engine of Automotive Professions Ltd.: car technicians for the digital age