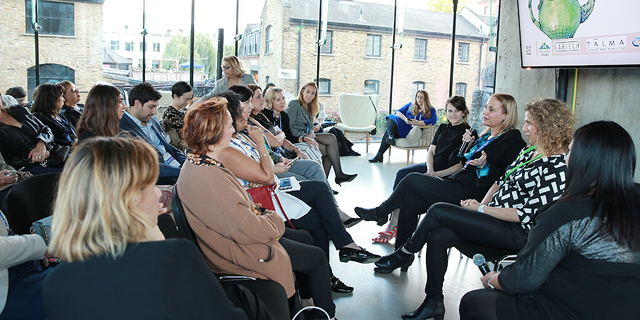 Mind the Tech 2019
Strategic Partnerships Make it Easier to Break Glass Ceilings, Says Yazamiot Founder
Hilla Ovil-Brenner, the founder of Yazamiot, a non-profit organization with over 5,000 members that promotes female entrepreneurship in Israel, spoke at a female entrepreneurship meet held during Calcalist's third Mind the Tech conference in London
Sophie Shulman
: 2019-09-15T18:01:02..
Strategic partnerships make it easier to break glass ceilings, said Hilla Ovil-Brenner, the founder of Yazamiot, a non-profit organization with over 5,000 members that promotes female entrepreneurship in Israel. Brenner spoke at a female entrepreneurship meet during Calcalist's third Mind the Tech conference in London, held as a follow-up to an event held by the British Embassy in Israel in March this year. In the first event, the Embassy invited a delegation of 18 female tech executives and entrepreneurs to Israel, where they met with Israeli counterparts and potential partners. The meet took place at 5 p.m., the traditional time for afternoon tea parties. Dozens of women attended, investors and entrepreneurs alike. Some of the entrepreneurs pitched their startups to their female counterparts.
A panel featuring Merav Weinryb, managing director of Qualcomm Ventures Israel, Shirona Partem, head of development at London-listed cybersecurity company Kape Technologies PLC, and Ofir Ben Nun-Steinberg, co-founder of brokerage service Interactive Israel Trading, was held during the meet.