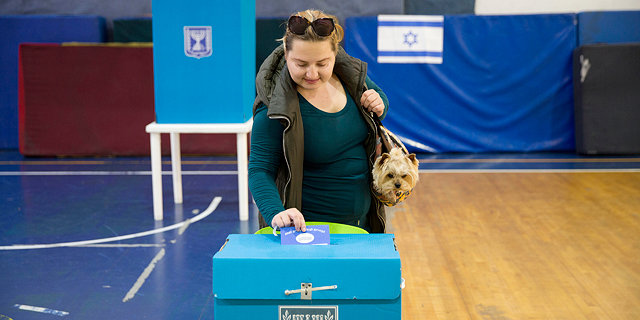 CTech's Tuesday Roundup of Israeli Tech News
With a slight sense of deja vu, Israelis are flocking to the polls, again; In Israel, Arab voters vote less, data shows
With a slight sense of deja vu, Israelis are flocking to the polls, again. This is the second time this year that Israelis are rushed out of their ordinary lives to cast their votes after April's election came to a stalemate. Read more
In Israel, Arab voters vote less, data shows. The number of eligible voters from Israel's largest minority increased significantly since 1992, but low voting rates diminish their electoral power, according to data gathered by Arik Rudnitzky of the Israel Democracy Institute.
Read more
Expert | Deepfakes are good for more than just manipulating voters. With Israel's general election taking place Tuesday, researcher Dov Greenbaum outlines the dangers, consequences, and potential legitimate uses of deepfakes. Read more
No-checkout shopping startup Trigo raises $22 million. Founded in 2017, Trigo Vision uses in-store ceiling-mounted cameras to identify items picked up by customers, automatically charging them as they leave the store to create a no-checkout shopping experience. Read more
Israel Post to ship Amazon packages in Israel. The agreement pertains both to packages shipped to Israel from overseas and those that will be shipped by local sellers once Amazon's Israeli service goes live. Read more
Marius Nacht, OurCrowd back Igentify in $10.5 million round. Igentify develops a digital genetic testing analyzer for various genotyping technologies like microarray and next-generation sequencing (NGS), and offers machine-generated personalized genetic counseling. Read more
Israeli research firm IVC announces strategic partnership with Crunchbase. According to a study conducted by IVC using Crunchbase data, Israeli startups raise A rounds later than both American and European companies. Read more
With a slashed valuation, WeWork intends to postpone IPO, report says. WeWork had planned to begin its IPO roadshow next week on Monday, but is likely to shelve it until at least next month, The Wall Street Journal reported Tuesday. Read more
Israeli insurance company sues Facebook for using the name Libra. In addition to $1.4 million, Libra Insurance is also demanding that Facebook stops using the name for its cryptocurrency in Israel.
Read more
French soccer team Olympique de Marseille partners with Israeli public transit app Moovit. As part of the collaboration, Moovit will provide the team's fans with information about the stadium's arrival options via public transportation or bicycles, as well as by foot. Read more