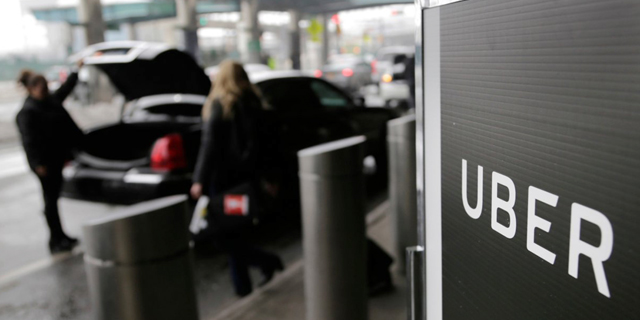 Expert
Uber as a Symptom of the Ills of the Gig Economy
The ride-sharing company is fighting California's new law restricting gig employment. Given Uber's exploitation of workers and potential environmental harm, it is interesting to see if Californians are woke enough to put the well being of others above their convenience
Dov Greenbaum
|
10:03 20.09.2019
Uber is the company we all love to hate,and with good cause: its cofounder left the company in shame after Uber's toxic and unethical culture was exposed; it undervalues and under-serves its drivers; and its even actively working to replace them all through investing almost half a billion dollars in autonomous driving research.
Uber and its compatriots are also supposedly the cause of increased traffic, congestion, and their associated harmful emissions; of decreased use of public transit and the concomitant fall in its funding; of increased traffic-related deaths; and of replacing healthy modes of transportation like walking or biking with easy to hail cars that often circle around aimlessly in between customers.
It is no surprise then that many view California's recently passed bill to enforce employee status on gig economy workers as directed at Uber in particular. But, if we could separate Uber the company from Uber the service, we would find that many of the workers appreciate Uber for its flexibility and lifestyle options, and its consumers love it for its convenience, as is the case with many other gig economy services that may be affected by the new bill.
Ironically, California, which is the first U.S. state to pass this type of Uber-killing legislation is also one of the epicenters of the gig economy. Succinctly, the gig economy is a modern iteration of freelancing, wherein someone can be employed by one or more employers and they are remunerated for discrete tasks that they typically do on their own time, under their own preferred conditions, at their own place of work, and without too much employer oversight. Much of this freedom has been made possible by advances in technologies such as artificial intelligence that optimally matches workers with customers.
Workers in the gig economy range from freelance full stack developers coding on demand for startups and established multinationals to Uber and Lyft drivers who set their own schedules and financial goals. There are numerous freelance marketplaces like Israel-based Fiverr Int. Ltd. and IKEA-owned Task Rabbit where professional and amateur contractors auction off their services. At some of the most extreme cases, you have people who bid to do menial tasks for literal pennies on Amazon's Mechanical Turk or who are paid simply to stand in line for you.
Even before the gig economy became a thing, California has long been a haven for the mentality behind it. Historically in California, non-compete and other contractual restrictions on workers were rarely upheld and workers moved fluidly from job to job, so it is not surprising that most major gig economy platforms maintain a substantial portion of their business there. Nevertheless, the new CA AB5 bill on worker status, specifically as it relates to employees and independent contractors, has been signed by the governor and will come into force on January 1, 2020.
Uber has promised to fight the initiative on many fronts, including among other things claiming that the law does not apply to them, fighting the law in court, and starting a 2020 ballot initiative to revise the law.
Whatever happens, the results will be monumental. According to many, the law threatens the future of the gig economy by forcing workers to become legal employees, with all the benefits and costs to their employers, which this status entails, rather than independent contractors who do not have many benefits and protections, and whose services can be provided cheaply to consumers without their employers having to pay payroll taxes or workers' compensation.
Many see this bill and its potential subsequent iterations in other jurisdictions as the death knell for much of the gig economy, but this may not be the case. Let's consider Uber again: the estimated annual cost of converting Uber drivers to employees of $800 million pales in comparison to Uber's $5.2 billion in losses in the last quarter alone.
Some see the law, which might raise costs within the gig economy by 20%-30%, as a broader effort by politically powerful unions to quash this paradigm-shifting method of doing business which hurts big labor's bottom line.
Some suggest that the law originates from a 2018 lawsuit wherein a Los Angeles-based company reclassified its workers as independent contractors effectively rescinding many of their employee benefits. In Dynamex Operations West, Inc. v. Superior Court of Los Angeles, the California Supreme Court ruled that in addition to the standard requirements, an independent contractor must be someone who "performs work that is outside the usual course of the hiring entity's business." Accordingly, if Uber is a taxi company, then its drivers perform a task that is inside their usual course of business. Similar cases have been ruled upon in other jurisdictions.
If the law is designed to reign in bad actors like Uber which exploit their workforce, it is arguably overkill. The law does not only target the Ubers and Grubhubs of the world. Independent truckers have also protested the bill, and it was amended early this year to specifically exclude other professions with sufficient political clout that might have gotten caught up in its dragnet, including doctors, brokers, insurance agents, and hairstylists.
The law will likely affect many diverse independent contractors who knowingly choose their profession regardless as to how they are treated by their employer. And there are quite a few of these. It is estimated that nearly 55 million people in the U.S. can be classified as part of the gig economy workforce. Many of them are people with full-time jobs, who also have a side gig. These numbers are expected to rise to 43% of the U.S. workforce by next year, although some think these calculations severely overinflate the situation.
Inflated or not, these numbers reflect the broad appeal for this type of employment: the gig economy is attractive to both the disruptive nature of millennials— who also often face crippling academic debt and poor job prospects, especially since the 2008 recession— as well as older generations, like the baby boomers who are seeking out extra income before, or after retirement.
Whatever the political underpinnings of the law, as other states enact their own versions—New York has already expressed interest—we may find that the foundations of the current iteration of the gig economy experiment will fall apart. Many of the millions of digital nomads will need to find alternative ways to support their lifestyles. Those who will be fortunate enough to maintain their current jobs at places like Doordash and Lyft will find that while they now receive various worker benefits, as well as at least minimum wage, their employers are likely to will become more intrusive to justify these costs.
The question will now come down to whether Californians will exercise their direct democracy rights and vote down the law that was passed by their elected representatives. Given how Uber exploits many of its workers and potentially adds to harmful environmental emissions, it will be interesting to see if Californians are woke enough to put the environment and the health and wellbeing of their fellow citizens above the convenience of being able to hail a cab using their mobile phone.
Dov Greenbaum, JD PhD, is the director of the Zvi Meitar Institute for Legal Implications of Emerging Technologies and Professor at the Harry Radzyner Law School, both at the Interdisciplinary Center (IDC) Herzliya.