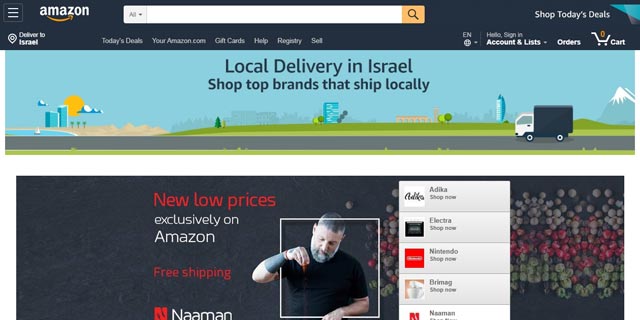 Amazon's Israeli Website Is Live
The e-commerce giant launched its local service with a "ships locally" option Sunday evening
Orna Yefet
: 2019-09-23T08:32:06..
Amazon has officially launched its Israeli service on Sunday evening. The website, though still available only in English, offers prices in shekels and a "ships locally" option and highlights the Israeli retailers that already joined the platform—among them cosmetics brand GA-DE, fashion retailers Crazy Line and Adika, Nintendo Israel, and skincare brand Sebocalm.
Amit Perry, the CEO of mattress company PandaZzz, told Calcalist that Amazon will only enter the Israeli market for real when it chooses to set up a local logistics center. PandaZzz has chosen to sell its products on Amazon at a 10% discount for a month-post launch, he said, adding that while working via Amazon instead of selling directly to consumers means PandaZzz now has to pay an additional commission, it could help the company increase its international sales.