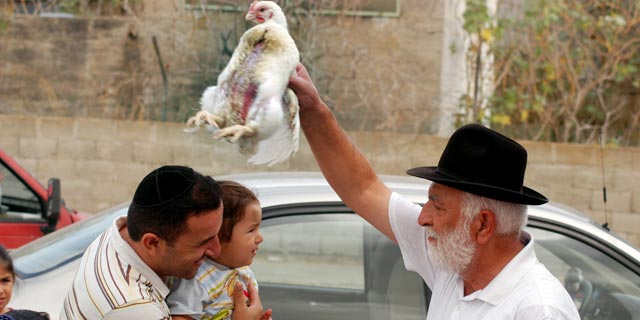 List
5 Unique Traditions You Can Witness in Israel During the Jewish High Holidays
In Israel, the Jewish holiday season sees religious traditions mix with the habits and lifestyles formed through eight decades of cohabitation by the country's diverse populations
Tofi Stoler
|
09:36 29.09.2019
Israel can be a fascinating place to visit throughout the year, but the Jewish High Holiday season provides a glance at the complex tapestry of life here. The holidays in Israel see religious traditions mix with habits and lifestyles formed through eight decades of cohabitation by the country's secular majority, its devout communities of mostly religious Zionists and ultra-Orthodox (Haredi) Jews, and its non-Jewish communities. Below are five unique traditions you may witness strolling the streets of Tel Aviv, Jerusalem, and other Israeli cities, during the upcoming holiday season, which begins Sunday with Rosh Hashana, the Jewish New Year celebration. Tashlikh
On the first day of the Jewish New Year, when everyone is still walking around with a stomach full of delicacies from last night's feast, you may find people gathering around large bodies of water to throw bread crumbs. Make no mistake, they are not feeding the fish. Instead, they are performing the atonement ritual of Tashlikh, Hebrew for cast off. Penitents practicing the ritual recite a Bible verse and prayers as they cast off the crumbs, symbolizing their past sins. While the majority of practitioners will perform the ceremony on the first day of Rosh HaShana, Monday, September 30, the ritual can be performed at any time until Hoshana Rabbah, the seventh day of Sukkot, held on October 19-20. Some communities and rabbis forbid the use of bread crumbs in the ceremony, only allowing for a symbolic cast off of air.
If you see a grown man spinning a live chicken over the heads of young children on the day before Yom Kippur, don't bother calling the police. On any other day, this would be considered a crime under the law prohibiting animal cruelty, but not ahead of Yom Kippur, the annual fasting day of atonement. The chicken or rooster in question, chosen according to the sex of the repentants, represents the person whose sins are being atoned for and will be slaughtered and donated to charity just moments after the ritual is complete. Another variant of the ritual, preferred by some rabbis and all animal rights organizations, uses a bag of money instead of a terrified bird.
During Yom Kippur, the holiest day on the Jewish calendar, which takes place this year on October 8-9, all businesses and services (other than emergency or security services) are suspended by law. This includes public transportation and television and radio broadcasts, which are shut down for the duration of the day.
While not required to do so by law, private cars also stay off the road for the day in what has become a decades-long tradition honored by religious Jews, secular Jews and non-Jews alike.
unofficial bike festival
, in which bikers, rollerbladers, and skateboarders take to the roads and highways in droves. Not just a unique experience for visitors and tourists, Yom Kippur is also a chance to breathe in some fresh air, as air-pollution rates in Israel's main cities drop by almost 99% during the day, according to the Israeli Ministry of Environmental Protection. Sukkot
It starts right after Yom Kippur. Every balcony, parking lot, and front or back yard suddenly houses some kind of tent-like structure, normally the size of a small room. We are not dealing with illegal building expansions here but with the eight-day holiday of Sukkot, taking place this year on October 13-21, in which religious code dictates Jews must abandon their homes to sleep and eat in a makeshift structure under the stars. Secular Jews often also observe the Mitzvah, at least partially, constructing and decorating their own Sukkah for the duration of the holiday that marks the end of the season.
With all the different traditions and unique characteristics of each holiday, one element is shared among them all: there is no public transportation. Locals and visitors alike could find themselves deadlocked and unable to travel for an accumulated period of over 11 days, including three Shabbats, during the 23-day holiday season. People looking to utilize their days off work by taking a trip out of town, visiting relatives, or even getting to the airport, might want to consider getting a private vehicle by next year.