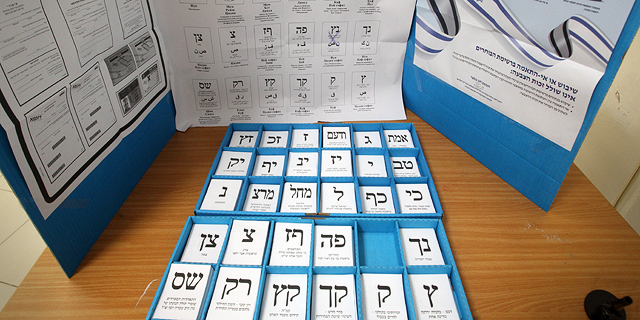 List
Calcalist's 100 Influencers List
On the eve of the Jewish New Year (Rosh Hashanah), Calcalist reporters looked back on the people who shaped the year that is now drawing to an end
Eti Aflalo, Calcalist reporters
|
13:29 29.09.2019
On the eve of the Jewish New Year (Rosh Hashanah), Calcalist reporters looked back on the people who shaped the year that is now drawing to a close. Marked by two Israeli general elections and by political unrest both in Israel and globally, the ending year has been molded to a great extent by politicians. That said, it also saw impressive technological achievements, gainfull exits, and painful declines. See the full list below.
2. Israel's Attorney General Avichai Mandelblit, who will determine Prime Minister Netanyahu's legal future.
3. U.S. President Donald Trump.
4. Rabbi Yaakov Aryeh Alter, leader of the Ger Hassidic sect.
5. Yahya Sinwar, current leader of Hamas in the Gaza Strip, and Hezbollah Chief Hassan Nasrallah.
6. Israeli Defence Forces Chief of the General Staff, Lieutenant General Aviv Kochavi.
7. The Chief Justice of Israel's Supreme Court Esther Hayut.
8. Jeff Bezos, Amazon founder and CEO.
9. Israeli President Reuven Rivlin.
10. Israeli right-wing politician Ayelet Shaked, head of Yamina (Rightward in Hebrew).
11. Facebook CEO Mark Zuckerberg.
12. Bank of Israel Governor Amir Yaron.
13. Israel's State Attorney Shai Nitzan.
14. Liat Ben-Ari, the lead prosecutor in several corruption cases involving Prime Minister Netanyahu.
15. Russian President Vladimir Putin.
16. Israel's Minister of Communication David (Dudi) Amsalem, Israeli Lawmakers David Bitan and Miki Zohar of the ruling Likud party.
17. Israel's Deputy Minister of Health Yaakov Litzman.
18. Israel's Interim Justice Minister Amir Ohana.
19. Israeli banking regulator Hedva Bar.
20. Israel's capital market regulator Moshe Bareket.
21. Israeli business magnate Yitzhak Tshuva.
22. Newly appointed chairman of Israel's Bank Leumi Samer Haj-Yehia.
23. Arik Pinto, former CEO of Israel's Bank Hapoalim, and Rakefet Russak-Aminoach, former president and CEO of Bank Leumi.
24. Gilad Altshuler, owner and co-CEO of Israel-based asset management firm Altshuler Shaham Group, and Roy Vermus, managing partner at Noked Capital.
25. Etti Elishkov, founder and CEO of personalized insurance platform Libra.
26. Lilach Asher Topilsky, exiting CEO of Israel's Discount Bank.
27. Ron Fainaro, CEO of Bank Leumi's credit subsidiary Max.
28. Dan Zorella, co-founder of Israeli surveillance company Black Cube.
29. Omri Lavie and Shalev Hulio, co-founders of Israeli cyber surveillance company NSO Group.
30. Yuval Landschaft, director of the Health Ministry's medical cannabis unit.
31. Itzhak Aberkohen, CEO of Israeli supermarket chain Shufersal.
32. Private equity firm Searchlight Capital Partners and businessman David Fuhrer, who will soon own the controlling stake at Israel's largest telecommunication company, Bezeq.
33. Mellanox CEO Eyal Waldman and Jensen Huang, founder and CEO of Nvidia.
34. Eyal Lapidot, CEO of Israeli real estate group Shikun & Binui Ltd.
35. Chair of the U.S. Federal Reserve Jerome Powell and Mario Draghi, president of the European Central Bank.
36. Emir of Qatar Tamim bin Hamad Al Thani.
37. President of China Xi Jinping.
38. Iran's Supreme Leader Ayatollah Ali Khamenei.
39. President of Egypt Abdel Fattah el-Sisi.
40. President of Turkey Recep Tayyip Erdogan.
41. British Prime Minister Boris Johnson and his predecessor Theresa May.
42. Israel's Minister of Foreign Affairs Israel Katz.
43. Israeli Minister of Finance Moshe Kahlon.
44. Member of the Israeli parliament Ayman Odeh, head of The Joint List, comprising of four Arab-dominated parties represented in the Israeli Knesset.
45. Former Israeli Prime Minister Ehud Barak.
46. Activist hacker Noam Rotem.
47. Yair Netanyahu, the eldest son of Israeli Prime Minister Benjamin Netanyahu.
48. Sara Netanyahu, the wife of Prime Minister Netanyahu.
49. American businessman Nathan Milikowsky, who is a cousin of the Israeli prime minister and one of his beneficiaries.
50. Israel's State Comptroller Matanyahu Englman.
51. Airbnb's CEO Brian Chesky and co-founder Joe Gebbia.
52. President and CEO of Beyond Meat Ethan Brown.
53. Swedish climate activist Greta Thunberg.
54. Disney's Chairman and CEO Robert Iger.
55. Shaul Meridor, head of the budget department at Israel's Ministry of Finance.
56. Israel's Accountant General Rony hizkiyahu.
57. Eran Yaakov, the director-general of the Israel Tax Authority.
58. Israel Securities Authority (ISA) Chairwoman Anat Guetta.
59. Itay Ben-Zeev, CEO of the Tel Aviv Stock Exchange.
60. Yogev Gradus, deputy director of the budget department at the Israeli Ministry of Finance.
61. Moshe Bar Siman Tov, director general of Israel's Ministry of Health.
62. Shai Babad, director general of the Israeli Finance Ministry.
63. Michal Halperin, the general director of Israel's Antitrust Authority.
64. Rona Segev, founding partner at venture capital firm TLV Partners, Qumra Capital Partner Sivan Shamri Dahan, and Aya Peterburg, managing partner at S Capital.
65. Israeli businessman George Horesh.
66. Danna Azrieli, chairwomen of the Azrieli Group, and Liora Ofer, chairwoman of real estate company Melisron Ltd.
67. Harel Weisel, CEO, director, and controlling shareholder at Fox-Wizel Ltd., and Ron Rotter, chief financial officer at Israeli fashion retailer Castro.
68. A parental protest over preschool education in Israel.
69. The Chinese infrastructure companies that are investing in Israel.
70. Efi Nave, the former president of the Israeli Bar Association, and Avi Himi, who was elected as his replacement in June.
71. Dalit Zilber, director general of the Israel Planning Administration.
72. Tel Aviv Mayor Ron Huldai, Ramat Gan Mayor Carmel Shama, Givatayim Mayor Ran Kunik.
73. Israel's recently created independent credit card companies.
74. Israeli businessman Naty Saidoff, controlling shareholder of Shikun and Binui (The Housing & Construction Holding Company Ltd.).
75. Argentinian businessman Eduardo Elsztain, controlling shareholder of holding companies IDB Development Corporation Ltd. and Discount Investment Corporation Ltd.
76. The electric scooter.
77. U.S. Senator Elizabeth Warren
78. U.S. Congresswoman Alexandria Ocasio-Cortez.
79. Helen Dixon, commissioner for data protection for Ireland.
80. Eldad Rothman, co-founder and chief operating officer of GlassesUSA.com; Eido Gal, co-founder and CEO of online payments fraud prevention startup Riskified Ltd.; and Michael Gabay, co-founder and CEO at shopping automation startup Trigo Vision Ltd.
81. Ram Belinkov, chairman of the board of directors of Israel-owned company NTA-Metropolitan Mass Transit System Ltd.
82. Senior White House advisor Jared Kushner and U.S. Ambassador to Israel David Friedman.
83. Bezalel Smotrich, Israel's minister of transport and road safety.
84.Yariv Levin, Israel's minister of tourism.
85. Gideon Sa'ar, a member of Israel's ruling party Likud.
86. Miri Regev, Israel's minister of culture and sport.
87. Tzahi Nachmias, CEO of real estate company Mega Or Holdings Ltd.
88. Haifa Mayor Einat Kalisch-Rotem.
89. Moshe Friedman, founder and CEO of tech nonprofit KamaTech.
90. David Marcus, the head of Facebook's Calibra, a former PayPal president who until recently headed Facebook Messenger.
91. Daniel Hershkowitz, Israel's civil service commissioner.
92. Adam Neumann, co-founder and former CEO of WeWork, who was ousted from the company in September.
93. Yiftah Ron-Tal, chairman of the board of the Israel Electric Corporation.
94. Solomon Tekah, an 18-year-old member of the Israeli Ethiopian community, whose fatal shooting by an off-duty cop in July sparked a country wide wave of protests.
95. Sigal Regev Rosenberg, CEO of Israeli health maintenance organization Meuhedet Health Services; Osnat Levtzion-Korach, general director of the Hadassah University Hospital-Mt. Scopus; Anat Engel, director of Wolfson Hospital; Sarit Avishai-Eliner, CEO of the Kaplan Medical Center.
96. Israeli gymnast Linoy Ashram
97. Nechama Rivlin, the wife of current Israeli president Reuven Rivlin, who had passed away in June following a long struggle with lung disease.
98. Israeli singers Omer Adam, Ishay Ribo, Eden Hason, and Itai Levi.
99. Israeli chef Eyal Shani (Miznon).
100. Simjon Rosenfeld, the last living survivor of Nazi death camp Sobibor.