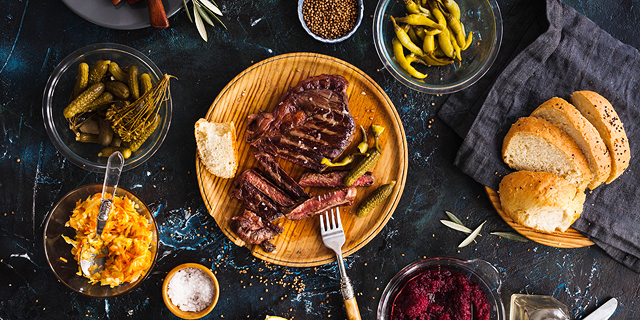 FoodTech 2019
Meet the 11 Finalists of Calcalist's Foodtech Innovation Competition
On Monday, October 28, Calcalist, Israeli food processing company Tnuva, and accounting firm KPMG will announce the winner of their annual food innovation competition for Israeli startups
Naomi Zoref
|
13:03 10.10.2019
On Monday, October 28, Calcalist, Israeli food processing company Tnuva, and accounting firm KPMG will announce the winner of their annual food innovation competition for Israeli startups. Dozens of Israeli foodtech companies participated in the competition, and the 11 finalists will present their technology at Calcalit's Food Tech 2019 conference, which will be held at Tel Aviv coworking space Labs.
Below are the finalists:
DayTwo
Founder: Lihi Segal
Funding: $48 million
Investors: aMoon, Ofek Ventures, Johnson & Johnson, Seventure Partners, Israeli basketball player Omri Casspi
Funding: $100,000
Tamiz develops and manufactures dairy products from non-soy vegan dairy-alternatives. The company currently supplies three product lines to health food stores throughout Israel: vegan spreads and spreadable cheeses, vegan yogurts and drinks, and vegan hard cheese.
Yoran Imaging
Founders: Yoav Weinstein, Eran Sinbar
Funding: $1.5 million
Investors: private investors
Yoran Imaging develops packaging analytical monitoring (PAM), a non-intrusive in-line inspection system for heat-sealed packages. The company's system can be used for containers, blisters, canisters, pouches, sachets, and tubes. Equinom Founders: Gil Shalev, Itay Dana
Funding: $10.25 million
Investors: Fortissimo, Hazera 1939, Dan Danzinger, Roquette
Equinom Ltd. is a computational breeding company developing non-GMO specialty crops for the food industry, including high-protein legumes designed to be used in innovative plant-based food products. Founded in 2012, Equinom has a number of contracts under its belt, including a multi-year contract with U.S.-based hummus maker Sabra Dipping Company LLC, and a commercialization agreement with Japan's Mitsui & Co. Ltd.
Soos Technology
Founder: Yael Alter
Funding: $1.8 million
Investors: Takwin, Mikal, SIBF, Alon Gozlan
NR Soos Technology Ltd. develops incubation technology that controls the sex-development process in poultry embryos and changes genetic male embryos into functional female chickens capable of laying eggs. The company's technology controls changing environmental conditions during the hatching process to determine gender without harming eggs or chicks, enabling the egg industry to increase business productivity business and optimize efficiency.
Verstill
Founders: Yechiel (Jonathan) Ben Zvi, Ido Maor, Matan Edvy
Funding: $550,000
Investors: Alex Haruni, Termaips Technologies, F&F
Verstill Distillation Systems develops technology to more quickly and cost-effectively produce spirits. The company's molecular distillery is able to control the flavor composition and complexity of whiskey, and bring high-quality spirits into the market in a matter of weeks instead of years, according to the its website.
Zero Egg
Founders: Liron Nimrody, Tammy Meiron, Amiel David
Funding: $1.05 million
Investors: The Kitchen, New Crop Capital
Zero Egg Ltd. develops and manufactures a plant-based liquid egg that tastes, looks, and functions like a real egg, the company says, and can be used as an egg substitute in any recipe, including to make omelets and mayonnaise. The company's egg substitute has no cholesterol.
Phytolon Founders: Tal Zeltzer, Halim Jubran Phytolon Ltd. develops technology for the production of natural food colorants through fermentation, using baker's yeast cells as biofactories. The company's food colorants are plant-based pigments in a variety of colors and applicable to a wide variety of food products.
TIPA Compostable Packaging
Founders: Daphna Nissenbaum, Tal Neuman
Funding: $49 million
Investors: Greensoil, Chestnut holdings, Horizons Ventures, Blue Horizon Ventures, Triodos Organic Growth Fund
AgrIOT
Founder: Assaf Sufa
Funding: $1 million
Investors: private investors
AgriIOT Group Ltd. develops IoT-based technology to help manage fertilizer levels based on the nitrogen content in plant leaves by measuring the greenness of the leaves through the use of sensorless IoT technology, digital image processing, and advanced optics. The company's technology then provides farmers with accurate fertilizer and watering recommendations. Kinoko-Tech Founders: Jasmin Ravid, Daria Feldman, Hadar Shohat Kinoko-Tech Ltd. produces various gluten-free, cholesterol-free, and non-GMO food products based on an alternative protein mushroom tissue called mycelium, which grows on legumes and grains.