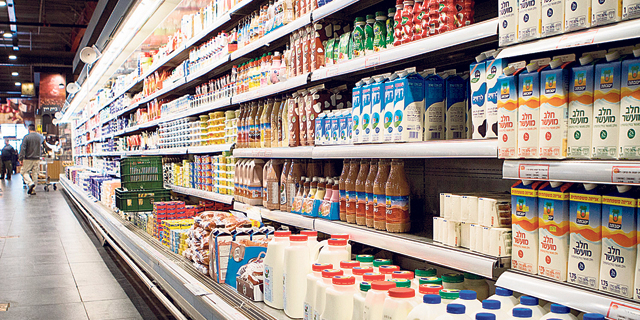 With Unclear Political Future, Israelis Face More Exorbitant Living Costs
Israeli food manufacturers are taking advantage of the country's prolonged political limbo, hiking prices of basic food staples
Nurit Kadosh
|
13:20 15.10.2019
In Israel, political limbo is exacerbating an already high cost of living. Israel's political future is still cloudy following two inconclusive elections this year, with the possibility of a third bout still looming on the horizon. In fact, since December 2018, when the country's 20th parliament went on its annual recess, Israel has been operating under a limited government incapable of passing far-reaching litigation. As political bickering delays crucial decisions regarding Israel's ballooning budget deficit and economic future, local food manufacturers and retailers are using the regulatory gridlock to up their prices.
Israel has notoriously high living costs compared to the OECD average, with food prices 19% higher according to 2018 data. Out-of-pocket preschool spending in the country is the most expensive of all OECD countries, and on average, Israelis spend 25% of their gross adjusted disposable income on rent. A recent survey by Dun & Bradstreet Corp. revealed that Israelis have on average a negative checking account balance of NIS 25,000 (approximately $7,090), and 5% are paying off at least five loans concurrently.
In late September, in the week preceding the Jewish New Year, retailers warned the Israeli public that chicken prices will be jumping due to "expected" shortages resulting from fewer workdays. Fruit and vegetable prices have also increased. When one takes into account the recent hikes in the prices of dairy products, soft drinks, beer, toilet paper, rice, tuna, and other base products, it is hard not to think that some manufacturers and retailers are taking advantage of the fact that the cat is away.
Burned by the Israeli living cost protests of 2011, food retailers have been avoiding raising prices across the board, each choosing instead to stealthily hike prices one category at a time and targeting those categories where they enjoy a greater market share. Unilever did so with the cereal category, while Tnuva upped the prices of some popular cheese brands. Tara is still awaiting a reply to its request to hike its price-controlled dairy products, and Israeli bakeries have petitioned Israel's Supreme Court to raise price-controlled bread prices. Some brands disguised price hikes by keeping prices the same but reducing product sizes.
Israeli finance minister Moshe Kahlon delayed signing off on price increases for price-controlled dairy products for nearly a year before approving a 3.2% increase in May. Food manufacturer Osem announced a 4.5% hike for a third of its products in December but backed down after Kahlon made a series of promises to ease import regulation for raw materials. While Osem did freeze the announced hike, it might choose to proceed if the regulatory stalemate continues.
According to recent data provided by retail research company StoreNext Ltd., the Israeli fast-moving consumer goods market (FMCG) saw sales of NIS 35.6 billion ($10.12 billion) in the first nine months of 2019, up 2.7% year-over-year. Taking into account price increases, however, sales increased by only 1.2%, lower than Israel's population growth rate of 2%. If the trend continues for the remaining three months, 2019 stands to be one of the only years in the past few decades that will see the local food retail market face stagnation. The last time such a trend was seen occurred in 2014, when food retailers attempted to raise prices again after lowering them following the 2011 protests.