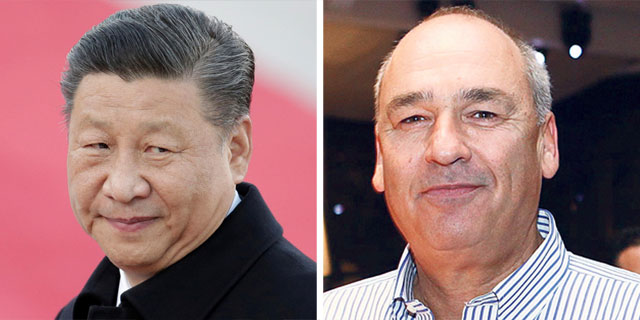 Israel's Viola Group's Covert New China-Backed Tech Fund
China Investment Corporation (CIC) will be the keystone investor in a new $250 million fund, which will focus on Israeli companies with significant sales potential in the Chinese market
Golan Hazani
|
08:54 28.10.2019
As tensions between the U.S. and China continue to boil, Israel-based Viola Group is setting up a new fund with government-owned China Investment Corporation (CIC) as a keystone investor, according to two people familiar with the matter who spoke to Calcalist on condition of anonymity. The new fund, already in advanced stages of raising commitments, will focus on Israeli companies with significant sales potential in the Chinese market.
Viola has declined Calcalist's request for comment.
CIC, which manages part of China's foreign exchange reserves, had over $940 billion in assets under management as of the end of 2017. Its involvement in the new fund could raise a challenge for Israeli companies in certain industries, as recent American regulation increased scrutiny and restrictions on tech companies with Chinese backers. Chinese tech conglomerate Baidu and Huawei Technologies Co. Ltd. have also agreed to back Viola's new fund, the people familiar with the matter said. Baidu invested in Viola funds in the past, as did China's largest insurer Ping An Insurance Group Co of China Ltd.
The new fund is targeting $250 million initially, with CIC expected to commit a quarter of the sum, the people said. While Viola may choose to pitch the fund to Israeli institutional investors, most if not all of the fund's commitments are expected to originate in China.
The new fund will operate alongside Viola's other funds, which may land the group in hot water with existing limited partners in its other funds, who will find themselves barred from investing in companies with a big potential in the Chinese market.
CIC will not be a general partner in the fund. Viola has declined to answer whether CIC will get a cut from the fund's net profit despite it. CIC has held talks with at least one other large Israeli fund, which ended up backing out, the people familiar with the matter said. Those negotiations discussed major advantages for the keystone investor, including the matter of compensation. CIC invested $50 million in a Pitango Venture Capital fund in 2015, but as a passive investor, not a major partner.
Data collected by Israel-based market research firm IVC Research Center Ltd. shows that in 2018, Chinese investors made direct investments in 12% of local funding rounds, compared to 7.5%-9% in the previous three years. Over the past five years, direct Chinese investments in Israeli tech totaled $1.5 billion across 300 companies, according to IVC. Tens of millions of dollars of Chinese money were invested through Israeli venture capital funds.