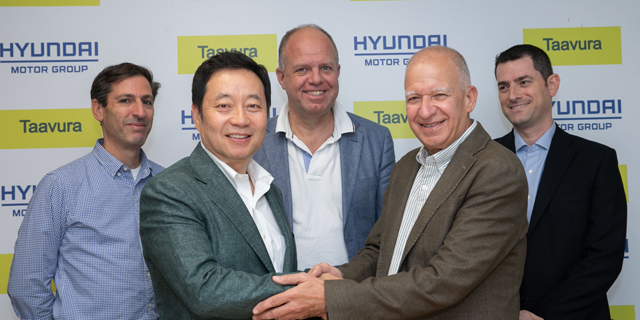 Hyundai Joins Local Partner's Israeli Innovation Center
Hyundai will leverage the center to scout for investments in Israeli tech companies in the fields of cybersecurity, autonomous vehicles, drones, transport, and smart mobility
Tomer Hadar
|
12:04 29.10.2019
The Hyundai Motor Company has signed a memorandum of understanding to join Israel-based transportation and logistics company Taavura Holdings Ltd.'s new innovation center, the companies announced Tuesday. The financial terms of the deal were not disclosed.
Per the agreement, Hyundai and Taavura will collaborate to scout for investments in Israeli tech companies in the fields of cybersecurity, autonomous vehicles, drones, transport, and smart mobility. Hyundai already has an innovation center in Israel called CRADLE, which was
inaugurated last year
.
Last month, Calcalist reported Hyundai is set to conduct an extensive pilot of hydrogen-fuelled trucks in Israel in 2020, to be executed by Taavura and Israeli automotive retailer Colmobil Ltd.